How to install the new One Drive for Business sync client on Apple OS X 10.9 (Mavericks) and later systems, to use with your University OneDrive account (for those eligible under the University's EES agreement)
Before you start...
Have you enabled your University Microsoft account yet?
If you have not already signed up for your University Microsoft account, you'll need to follow the instructions here (please allow up to 3 hours for this process to take effect before you come back here to set up your OneDrive - University of Cambridge account):
Getting started with your University Microsoft account
 Have you provisioned your OneDrive account yet?
You must follow the instructions on this page to provision the OneDrive account before you can use the OS X client software.
Provisioning your OneDrive account
You will need
OS X 10.9 (Mavericks) or later
Your Apple ID, to log in to the App Store
If you already have OneDrive installed ensure it is v17.3.6378.0329 or later. Use App Store to update if necessary.
Installation
Navigate to OneDrive in the Mac App Store.

 
Install OneDrive and then open it from the Applications folder.

 
Click the Sign In button.

 
After entering your UIS username (yourCRSid@cam.ac.uk) you will be redirected to the Sign In page for OneDrive for University of Cambridge.
 
Enter your password and click Sign In.

 
Select Choose OneDrive Folder Location and choose where to store the files hosted in OneDrive. The default is at the top level of your home directory.

 
Click Next to proceed.
 
Choose which folder(s) to sync. We recommend on your own Mac you sync all folders, if you have enough free space.

Think carefully before checking the All files and folders on my OneDrive option: how much free space have you got on your local hard drive (you could end up needing 5TB)? Trying to sync from the cloud without enough space on your local drive has been known to cause problems.


 

Click Next.
 
Tick the box to open OneDrive at login.

 
Installation and configuration is now complete.
Usage
When running, the OneDrive client is available in the top right corner of the screen.

Clicking the cloud allows easy access to the following:
Summary of the syncing status
Open the OneDrive folder
OneDrive preferences
Quit OneDrive
The OneDrive folder has a special icon in Finder.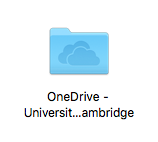 Finder Integration
OneDrive has the ability in Finder to show syncing status in the icon. To enable this:
Open System Preferences and choose Extensions.
Choose Finder in the list on the left and enable OneDrive Finder Integration.

When Finder integration is enabled, the sync status is shown in Finder.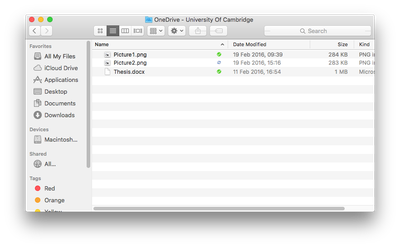 In this example, Picture1.png and Thesis.docx have synchronised successfully into the cloud and Picture2.png is currently synching.
Troubleshooting sync problems on a Mac