University members have access to a wide range of apps and services from Google Workspace.
What is Google Workspace?
Workspace is Google's collaborative online work environment. You can access it from any computer with an internet connection and a web browser.
Anyone at the University with an active University account (formerly called Raven) can use Google Workspace.
University staff and students also have access to Google Workspace for Education Plus which provides enhanced functionality. 
Google divides its Workspace apps between core and additional apps. You can access any of the core Workspace apps immediately. To access any of the additional apps listed below you must first accept their separate privacy policies on the Google Workspace preferences page.
Core Workspace apps
The core Workspace apps include:
All members of the University have automatic access to these services, which are covered by an agreement between Google and UIS.
Apps you'll need to opt-in to access
You can also opt-in to access more Google services. You'll need to toggle each of these apps on via the preferences site to accept the terms and activate the service.
These services include:
Chrome Web Store – install and manage Chrome browser extensions
Google Analytics –  a web analytics service that tracks and reports website traffic
Google Cloud and Developer Console  – Google's cloud platform. Only available to University staff as this is a charged service.
Google Groups – online forums and email-based discussion groups. You can't create new groups with your Google Workspace account, but you can interact with existing public Groups.
Google Maps – view maps and directions
Google My Business – help get your institution found on Google
Google My Maps – create, share and publish custom maps
Google Pay – payment services that enable the purchase of items through Google Play and other properties
Google Play – a digital distribution service. You'll need to enable Google Play if you'd like to download Android applications from the Google Play store.
Google Play Console – Google's platform for developers to publish apps and monitor their performance
Google Search Console – provides information to webmasters about how their site will be processed by search engines
Web and App Activity – saves searches and other Web activity in your Google account
YouTube –  video hosting and sharing platform
Other services may be added in the future. If you have suggestions, please contact the UIS Service Desk.  
What are the benefits?
You'll be able to share and collaborate on Google documents with anyone with an @cam email address while keeping them protected by your University account.  You'll also have unlimited file storage on Google Drive until December 2023. You can use it to securely share files with other Cambridge users or set up Shared Drives with your colleagues.
 
How do I access Google Workspace?
All members of the University have automatic access to the core apps and services available from Google Workspace.
Visit www.google.com and make sure you log in using your CRSid@cam.ac.uk email address – for example, abc123@cam.ac.uk – rather than a personal Google account or College Google Suite account.
If you aren't signed in already, you'll be redirected to the University account login page. There is more advice if you need help registering your Google account and logging in or if you've been locked out of your account.
After you've logged in to your University account, you'll then be able to access the apps from the menu in the top right of the Google page: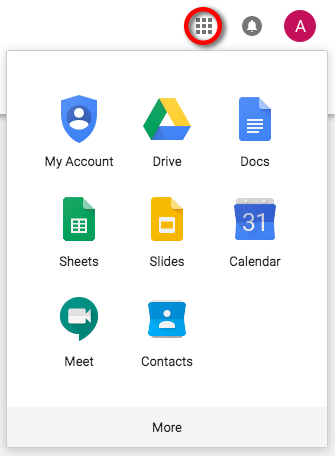 You can enable additional services via the preferences site. You'll find links to the terms of service for each app, and can toggle them on to accept the terms and activate the service. Some will become available immediately, but others may take a few minutes.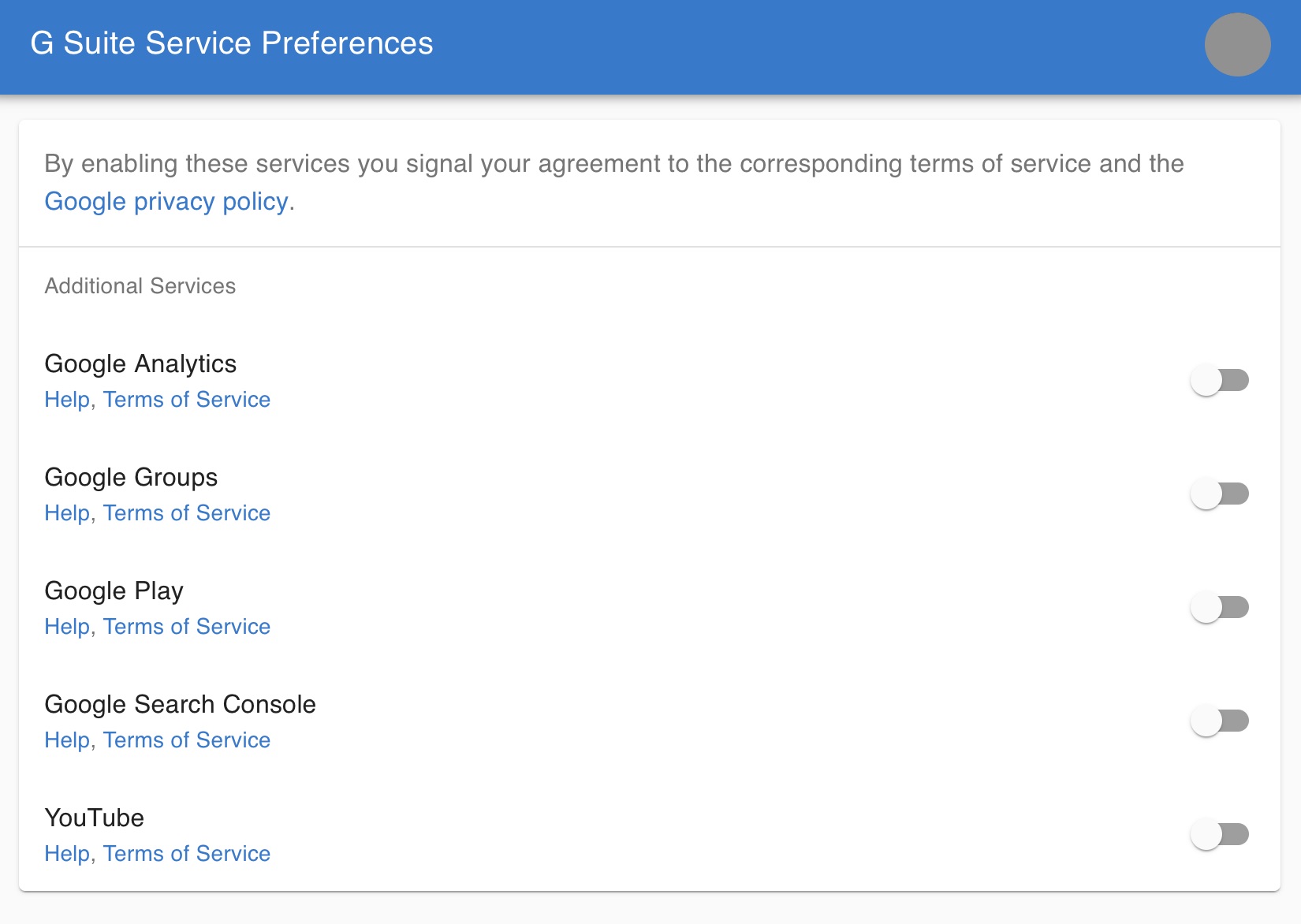 Getting help
Cambridge-specific advice is available on our Google FAQs page. You can find general information about using the apps and services on Google's 'Help' pages. You'll find it under the settings menu in the top right of the browser window: