Your Raven password, together with your CRSid (your University ID) lets you access wifi, your Cambridge email, Moodle, CamSIS and other online resources protected by Raven authentication.
Get your Raven password
Students
The Student Registry will email you about completing your registration and collecting your CRSid and temporary Raven password before you start your course at Cambridge. These will be sent to the email address you gave when you applied to the University. You should change your password on the Raven Password Management site.
Staff and visitors
Your CRSid and registration code will be given to you when you arrive at your institution. You will need to use these on the new user sign-up page to set up a temporary initial password. Make a note of this initial password, as you will not be able to retrieve it again. You must change your password on the Raven Password Management site.
Administrative staff
Your Administrative Computing Network (ACN) username and password will be given to you by the UIS Service Desk when you arrive at Cambridge. These give you access to your email (unless you are in ICE), the ACN Desktop, its storage drives and the Remote Desktop.
 

Choose a strong password and keep it safe
Choosing a strong but memorable password is easy. Today's advice is to make passwords long, rather than complex. See Choosing a strong password for further tips and information.
Your Raven password provides access to University data, including confidential and valuable information. It's essential to keep it secret and keep it safe. See our guide to password security for further tips.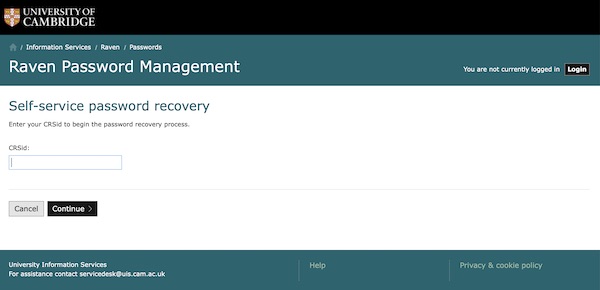 You can reset your Raven password using a recovery token sent to a recovery email address or mobile phone number, if you've configured your password recovery options.
To do this, log in to the Raven Password Management site and follow the 'Configure' link under 'Self-service password recovery'.
You'll need to nominate a recovery email address or mobile phone number (or both) and set up two security questions. The answers to your security questions should be information that only you know and that wouldn't be easy to find online (for example, avoid things that you might have posted on Facebook or other social media sites).
 
Reset or change your password
If you forget your Raven password or need to change it, you can reset it in two ways:
Self-service password recovery: visit the self-service password recovery site and click the 'Reset your password' button.
 
Password reset token: Most colleges and departments also have an authorised password resetter who can give you a code to reset your password. You can also get one by contacting UIS. We may need to arrange a video call or WhatsApp chat, and you'll need to show either your passport or photo driving licence as proof of identity. Find out more.
See our guidance on changing your passwords.
 
Problem solving
If you're having problems accessing online University systems, try logging into the University Lookup Directory to check that your Raven password is working correctly. If it isn't, you'll need to recover your password (see above). 
If your password is working but you're still having problems accessing a particular system, you'll need to contact your local IT support to arrange access. If they're unable to help, contact the UIS Service Desk.