This explains how to create a link to share a document that you can send to other people (inside and outside Cambridge). The process is the same across the Office 365 suite, including SharePoint and OneDrive.
 
Email address verification: a one-time process
The ability to create and share links with "Anyone" is no longer available in Office ProPlus, SharePoint or OneDrive. You must now create a link to share with specific people by adding their email address(es). This helps improve security.
The first time you invite people to share a document hosted in the University of Cambridge Microsoft cloud, they'll receive an email asking them to verify their email address before they can access the document.
This process adds them as a 'Guest Contact' in the Microsoft Azure Active Directory in the cloud so that in future, you'll be able to select their email address from the address book lookup when you want to share another document. The guest won't have to verify their email address next time someone from Cambridge wants to share a document with them.
 
How to create a shared link
In Office 365, SharePoint or OneDrive, locate the document you want to share, and click the 'More' icon (the three vertical dots) beside it.


 

In the pop-up menu, select Share:

 

Click on 'People in University of Cambridge...' to open the Link settings menu:

 

Select Specific people.
If you don't want to allow editing for this person, make sure 'Allow editing' isn't ticked.
Click Apply:

 

Enter the person's email address. You can add as many people as you like. Click Send.
Alternatively, you can click the Copy Link button and paste it into your own email message.

 

You'll see a message confirming that the link has been sent.

 
If this is the first sharing invitation they've received from someone within the University of Cambridge's Microsoft tenancy, they'll be asked to verify their email address. Doing this will add them as a 'Guest' user (name and email address).
They'll be sent one message in which they can can request a verification code. This is sent in a separate message. They'll have 15 minutes to use this code to verify their email address.
This verification step is a one-time process. Once they have verified their email address, they will not be asked to do so again should you or someone else from within the University of Cambridge Microsoft tenancy invite them to share another document in future.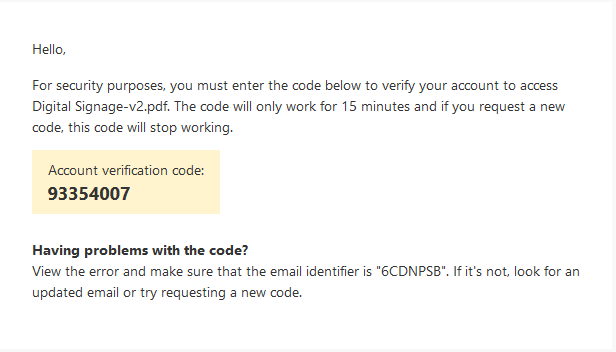 After entering the code they will receive a prompt to accept permissions:
Multifactor authentication for Guest accounts
Multifcator authentication is required for Guest accounts, after entering the verification code and accepting permissions they will be prompted for more information and should select the next button:
This will take them to set up for the Microsoft Authenticator app. Full instructions for this can be found on our MFA help pages. If they prefer to set up their phone number for text or call verification then they need to select 'I want to set up a different method' at the bottom of this screen and follow the instructions here.