Mail routing in Exchange Online
For any mail that originates from within Exchange Online, Exchange will check for the address internally first, for mail that originates outside of Exchange Online the message will flow through the central relay ppswitch (PPSW) first and then on to its destination. Read more about mail routing.
 
Aliases
Each mailbox in Exchange Online has a primary address. This is the email address you will see in the Global Address List (GAL) and the default sending address of the mailbox. Additional addresses can be added to a mailbox to allow you to send from an alternative address, as long as the address uses an accepted domain in our Exchange tenancy.
If you have been granted 'Send As' permissions to an address you can use the following instructions to send from it:
Outlook Windows
Select the Options tab, select From > More options to display the From field in your new email.
 
Select From and Other Email Address:
 

Select the From... button, search for and select the email address entry in the GAL (Global Address List)
 
Select OK to get back to composing the email:
If you can't see the address in the GAL, you may need to manually update your offline address list. Select the Send/Receive tab in Outlook then Send/Receive Groups. Select Download Address Book... then OK and allow the sync to complete before trying to add the address again.
 
Outlook for Mac
Sending from an additional address or alias is not currently supported in Outlook for Mac.
 
Outlook Web App
Select the From button to open the drop-down menu showing the email addresses, from which you can choose to Send As: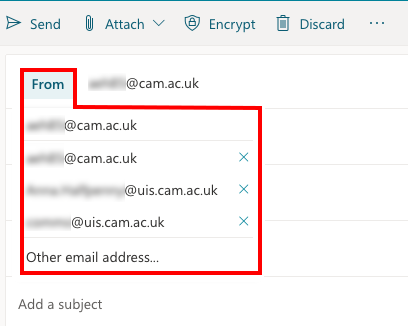 If the address does not appear in the list automatically, select 'Other email address...' and then type in the address manually in the 'From' field.
 
Outlook mobile app (iOS)
Open a new email message and select the arrow beside your email address at the top of the screen to open the drop-down menu to choose a 'Send As' address: