YouTube is an online video hosting platform and operates in a similar way to the University's Streaming Media Service (SMS). You can link directly to your media on YouTube or embed it into web pages using an <iframe> tag. There are some differences to functionality and terminology between the two services.
If you decide to host your video files on YouTube, please take the time to become familiar with YouTube's core features as well as its conditions of use by watching the YouTube Getting Started guide.
 
Creating a YouTube account
You can automatically create a YouTube account by logging into your University Google Workspace account and enabling YouTube in your personal preferences.
Creating YouTube channels
Once enabled, navigate to YouTube.com and select Create a channel from the settings drop down menu.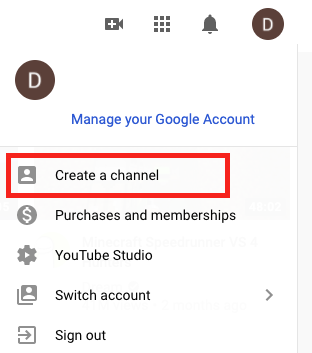 You will then be prompted to choose between a Personal or Custom channel. Choose a personal channel to host your personal media or choose a custom channel (also known as a brand account) for thematic media collections where a group of people may be involved in managing files – for example, you may wish to showcase the research of a group or create media around a particular research topic.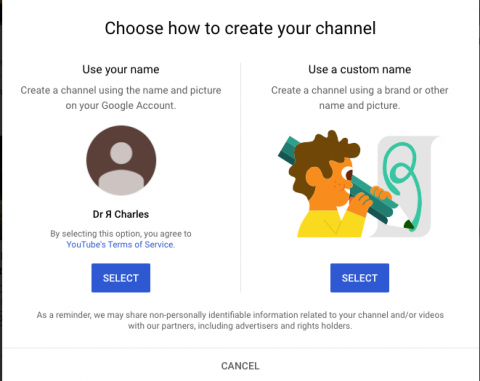 You can create up to 50 separate YouTube channels per G Suite@Cambridge account using the YouTube Channel Switcher. Only one of these can be a personal channel; all others will be custom channels.
 
Adding managers to a custom channel
You can add other managers to different custom channels by choosing Settings > Manage Permissions and inviting others to manage a channel.
 
Personalising your YouTube channel
YouTube enables you to personalise many aspects of each channel you manage, including channel name, featured videos, banner image and video watermarks added during encoding. You can also develop distinctive layouts and branding for each of your YouTube channels, create playlists, custom URLs and update information about your channels. You can use YouTube Studio to manage your personalisation settings. YouTube provides extensive guides on how to do this in the YouTube help centre.
The SMS provides a facility to add 'bumpers' and 'trailers' to your media during encoding, which added Cambridge University branding to the start and end of your files. To replicate this, you'll need to add your own introductory and ending video sequences to your videos prior to upload.
 
Uploading to YouTube
YouTube supports a wide range of video formats for uploads. You can configure default upload preferences for each of your channels in YouTube Studio. To do this, navigate to Settings > Upload defaults.
You can find out more about upload options and features at the upload help area.
Bulk uploads
YouTube provides a Package Uploader for those who need to upload a large number of files. This is available under the YouTube Content Delivery menu item. Settings such as the default channel for your uploads can be configured in the Uploader Settings area of your YouTube Dashboard.