How to set up eduroam on a mobile device running iOS
These instructions are for configuring eduroam for iOS devices such as iPhones and iPads.
Before you begin:
Then follow these steps:
 

Download this mobile configuration file using the Safari browser. Other browsers won't work. When prompted, tap 'Allow' to confirm the download. You'll see screens like this:

| | | |
| --- | --- | --- |
| For iOS 14 or earlier, open 'Settings', then tap 'General', scroll down to 'Profile' and tap it. Then tap the eduroam profile. |   | For iOS 15, you'll need to open 'Settings' and then tap on 'Profile Downloaded'. |
| |   | |

Check the details and tap 'Install' in the top right corner.
Read the certificate warning, and click 'Install' again.

When asked to enter a username, enter the username of the network access token you created on the UIS Token page for this device in the format CRSid+device@cam.ac.uk. For example: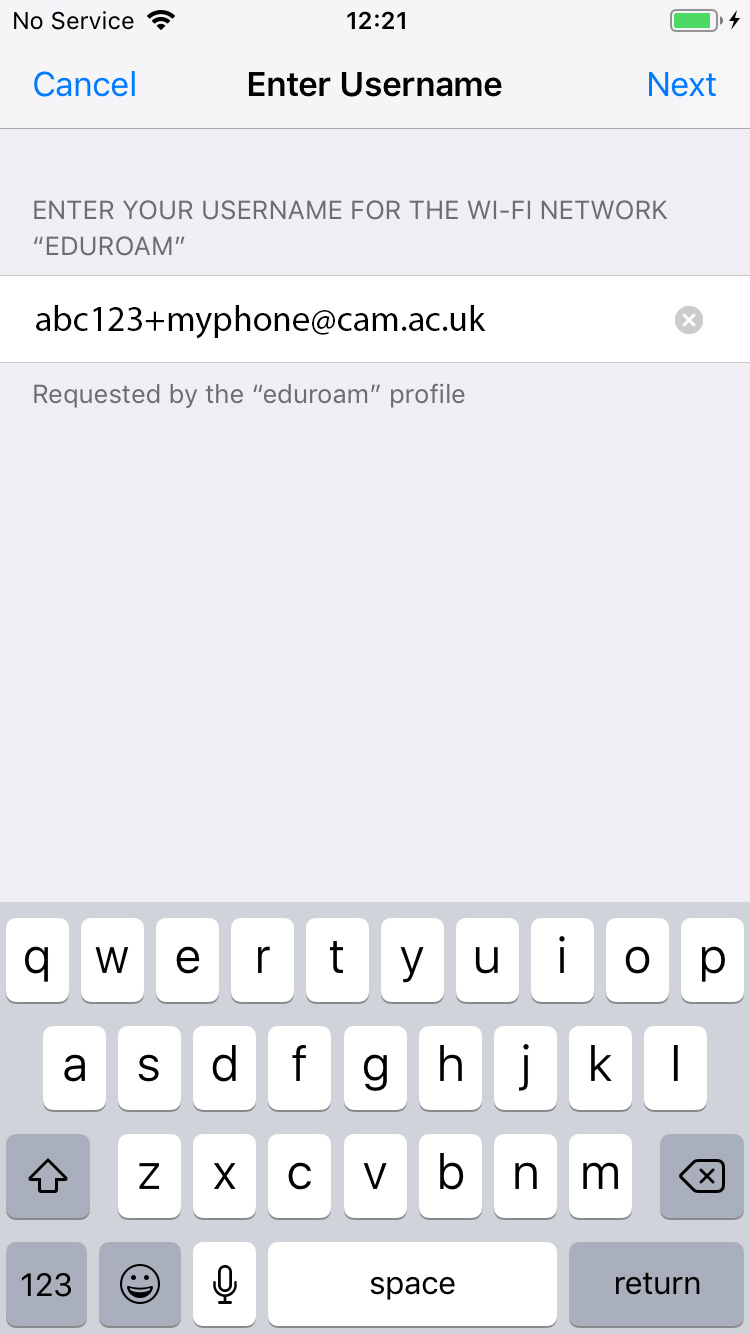 Then tap 'Next'. 

When asked for a password, manually type the password for the network access token you created for this device on the UIS Token page. Tip: Don't copy and paste the password because this can lead to spaces being added.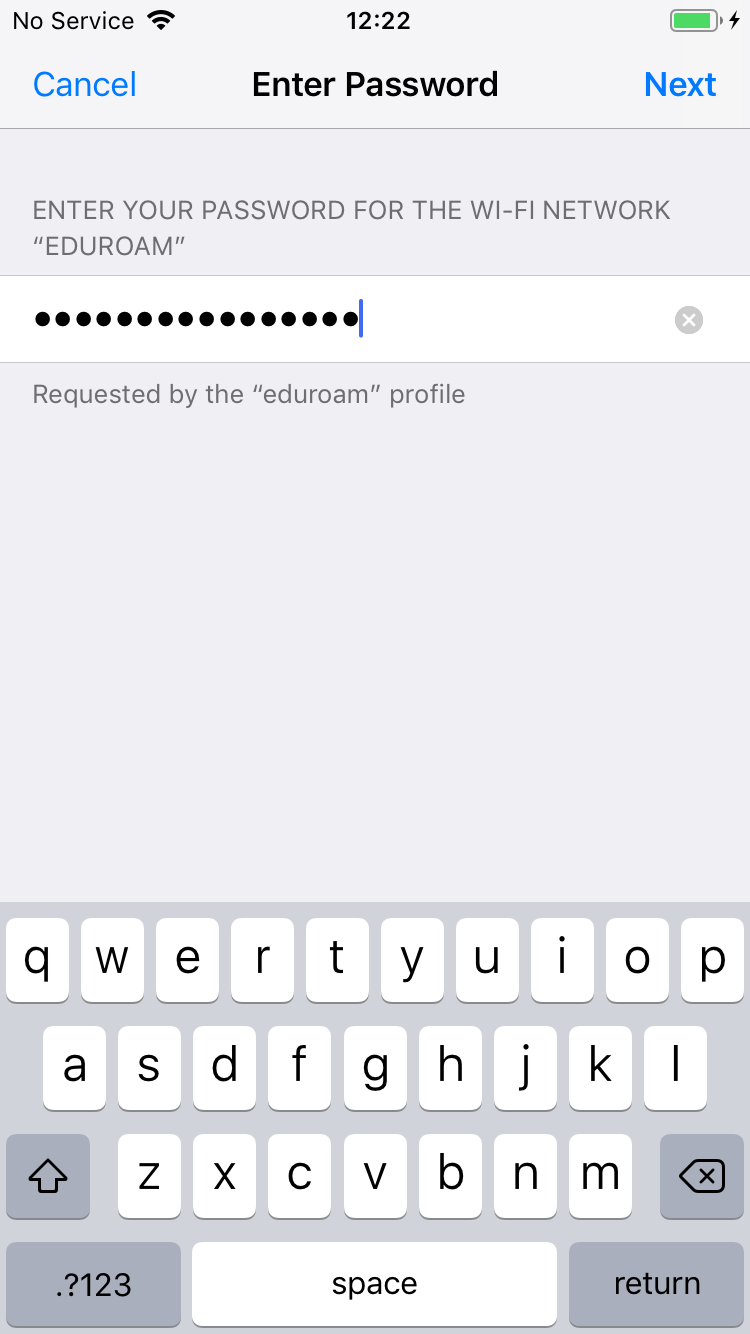 You'll see this screen confirming that the profile has been installed. Press 'Done'.

To make sure your device doesn't connect to UniOfCam instead of eduroam, go to Settings and then Wi-Fi (it might be under Settings, General, Network and Wi-Fi on older versions of iOS) and click the 'i' symbol to the right of UniOfCam. Then make sure that 'Auto-Join' is off, like below: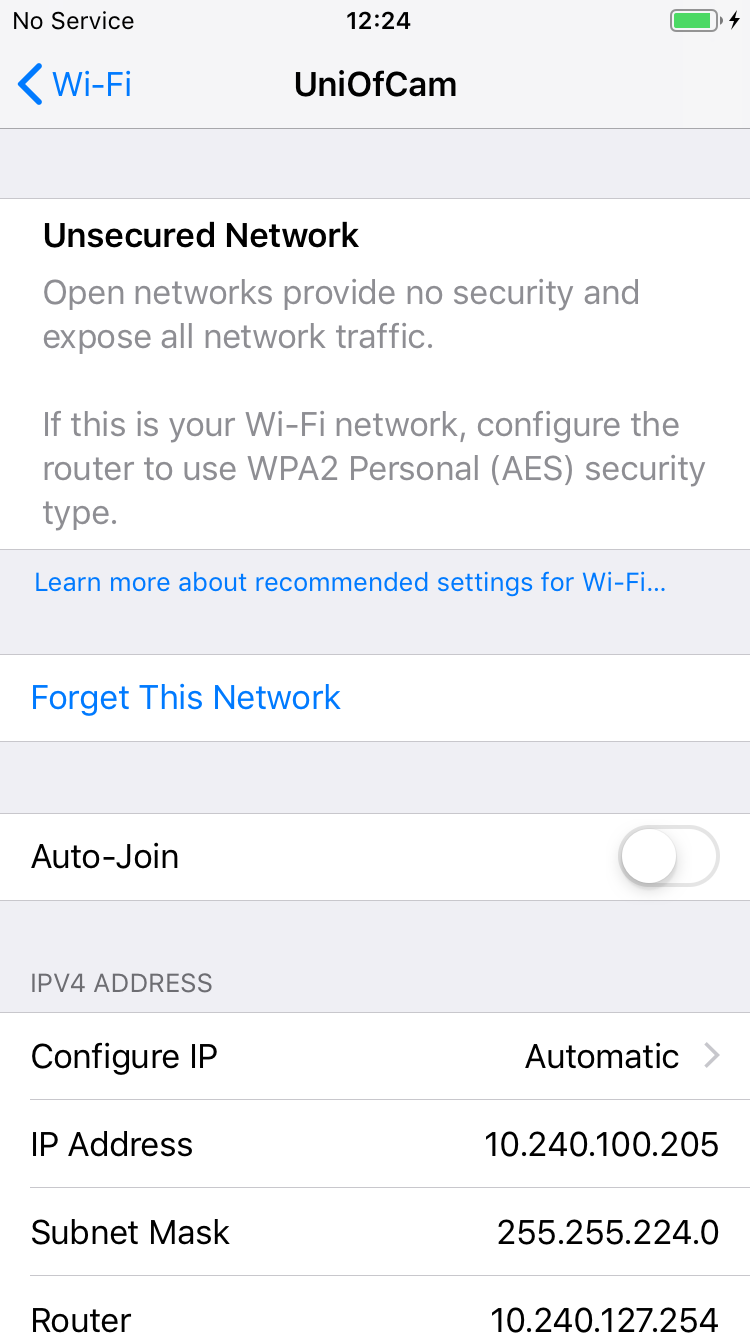 Your device should now automatically connect to the University's Wireless Service via eduroam whenever an access point is in range. If it doesn't work, double check the above steps – particularly making sure your entered the user name and password correctly.
 
Need help?
If you're still unable to connect, please look through the troubleshooting page or contact the Service Desk: servicedesk@uis.cam.ac.uk.