How to set up eduroam on a mobile device running Chrome OS
Before you begin, make sure you are in a location where the eduroam wireless network is available have created a network access token for your device on the UIS token page.

Connect to the internet – for example, by selecting the UniOfCam Wi-Fi network and logging in with your Raven Password.

Visit eduroam's Configuration Assistant Tool: https://cat.eduroam.org/.

Select "Click here to download your eduroam installer".

Select "University of Cambridge" from the list of organisations (or use the search box to locate "University of Cambridge" if necessary).

Your device type will be detected and the Chrome OS installer download link should appear, click on the link.
If you're using a different device to download the installer (for example, a laptop) then you'll need to select "Choose another installer to download" and choose Chrome OS from the list.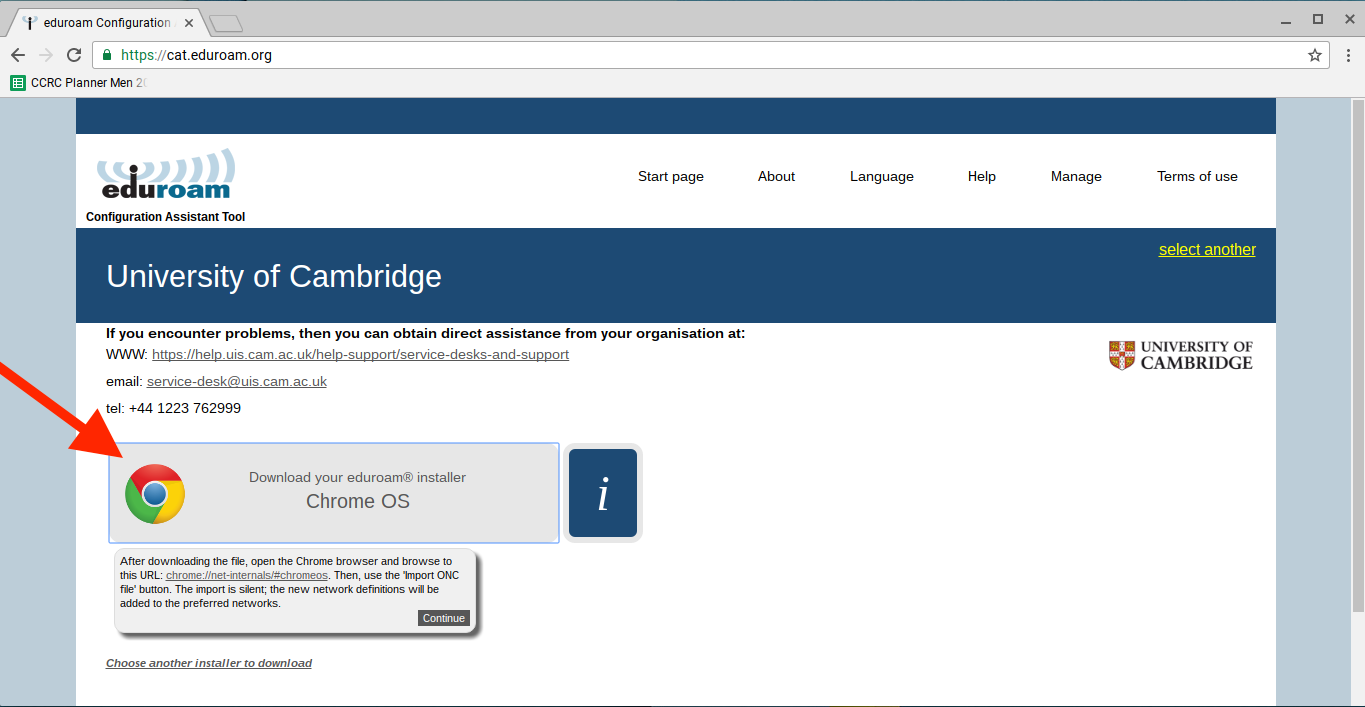 The installer will then be downloaded to your device. Now open the Chrome browser and browse to chrome://network#general.

Tap the 'Choose File' button under 'Import ONC file'... 
... and select the .onc file you downloaded from the eduroam site.


If prompted select EAP type as "PEAP" and Phase 2 Authentication as "MSCHAPV2".
You won't see any confirmation that the import has been successful, but the settings should have been updated.
You should now be able to connect to eduroam by tapping on 'Settings', then 'Wi-Fi', then choose eduroam.
For the username, enter the username of the network access token you created for this device on the UIS token page in the format CRSid+device@cam.ac.uk – for example, abc123+myphone@cam.ac.uk.
For the password, enter the password for the network access token you created.
If you have issues connecting your device, it is important that the Chrome OS software is fully up to date. Please also see the troubleshooting page.