Make sure you're signed out of your Microsoft account on other desktop applications, such as Microsoft Teams, Office applications and other browser windows before you proceed.
Step 1
In 'Start by getting the app', select 'I want to set up a different method'.
Step 2
Select 'Phone' from the dropdown menu.
Step 3
Enter your mobile number and select 'Text me a code'.
Step 4
You'll receive a text message containing a six-digit number from Microsoft: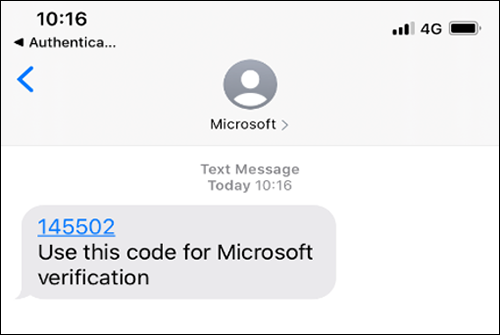 Step 5
Enter this number in the box, and select 'Next'.
The next time you log in to a Microsoft application such as Outlook, you may be asked to authenticate using your second factor. If you've set text messages up as your preferred method, you'll be sent a new code via text message to your chosen phone and see a prompt to enter the code on the login screen:
Signing into Teams
The next time you use the Teams desktop app, make sure you're signed in. Look out for a thin notification banner at the top of the application window that asks you to sign in – it's easy to miss!
 
Update the settings on your email apps
Managing your multi-factor authentication methods
You can change, remove and update multi-factor authentication methods at any time by logging in to your University Microsoft account. Find out how to manage your multi-factor authentication settings.
 
Getting help
If you have any queries about MFA or encounter any difficulties, please contact the UIS Service Desk.