It's also possible to use a code generated by a hardware token as your second factor for authentication. Speak to your IT support team if you'd like to get a token.
Step 1
Log in to your Microsoft account or application.  
Step 2
You'll be asked to enter a code: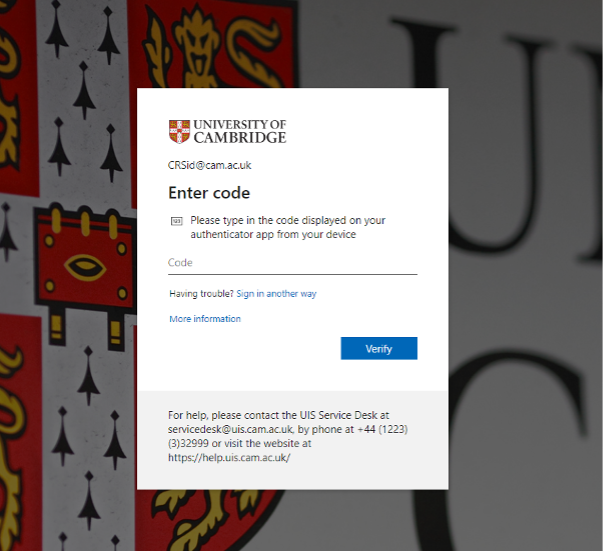 Step 3
Press the red power button on the device. It will display a six-digit code.
Step 4          
Enter the code displayed on your device without spaces and select 'Verify'.
Update the settings on your email apps
You may need to 
update the settings on email apps
 you use to access your University email account after multi-factor authentication (MFA) is enabled on your University Microsoft account.  
Managing your multi-factor authentication methods
You can change, remove and update multi-factor authentication methods at any time by logging in to your University Microsoft account. Find out how to manage your multi-factor authentication settings. We recommend that you set up more than one second factor to give yourself alternatives – for example, if you don't have your mobile phone with you.
Getting help
If you have any queries about MFA or encounter any difficulties, please contact the UIS Service Desk.