This version is compatible with Windows 11, Windows 10 (except 1511 and 1507 versions), Windows 8.1 update 1 and Windows 7 SP1.
Further supported platform information can be found on the McAfee site here:
Supported platforms for Endpoint Security (mcafee.com)
Installation

Wait for the setup screen to finish and close.
Right click the 'M' shield

 in the system tray and select 'McAfee Endpoint Security'.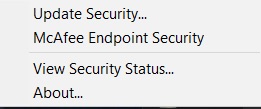 Click 'Adaptive Threat Protection'...
... and make sure 'Enable Observe mode' is not checked, to obtain best protection.

Click 'Apply' and close the McAfee console.
 
---
Installer including McAfee Web Control
A version of the above software that includes McAfee Web Control is available here:
Previous versions
If you're still using previous versions, we recommend installing the latest version, available above.
 
Uninstalling McAfee Endpoint Security
You can manually uninstall McAfee Endpoint Security.
In the control panel, select Programs and Features and uninstall the following items in this order:
McAfee Endpoint Security Adaptive Threat Protection
McAfee Endpoint Security Web Control (if installed)
McAfee Endpoint Security Threat Prevention
McAfee Endpoint Security Platform (if the above step hasn't already done so)
McAfee Agent
If the uninstall fails, a removal tool is available (expires 31/08/2022).
A removal tool user guide is available here.