How to set up eduroam on a mobile device running Android
Before you begin, make sure you are in a location where the eduroam wireless network is available and have created a network access token for your device on the UIS token page.
These instructions were written using a device running Android 8.
We're aware that some users may be experiencing difficulties connecting to eduroam via Samsung smartphones on Android 11.
Our initial investigations indicate that there's a bug in the Samsung's implementation of Android 11 that causes issues connecting to 802.1x networks like eduroam. We understand Samsung will issue a fix for this problem, but in the meantime we're looking into whether we might be able to advise on a workaround.
Unfortunately, this is a complex issue and may take some time to resolve. We'll provide an update when we have some news.
Install the 'eduroam CAT' app.
Important update for Android 11 devices: We believe that the 'eduroam CAT' will not work for some Android 11 devices. There is a different app available from Play Store called "geteduroam". We will update our instructions to reflect this once we've been able to test and document the new app. In the meantime, the experience of using the new app should be similar to the eduroam CAT tool, so we recommend trying it. Alternatively, you could configure your Android 11 device manually.
All versions of Android: Remember to remove any existing eduroam configuration before any attempt to reconfigure using a different method (e.g. remove any profiles installed using eduroam CAT before attempting to use geteduroam). This includes removing any manual configuration you may have previously set up.
For now, if your device is running Android 10 or lower the following instructions should work for you: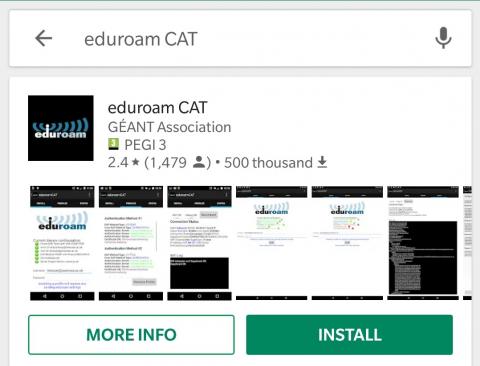 Give the eduroam CAT app location and storage permissions.
Open Settings and select 'Apps'.
Find and select 'eduroamCAT' in the list.
Select 'Permissions'.
Make sure that the app has permissions for both Location and Storage.
Exit 'Settings'.

Uninstall existing eduroam configuration. If you do not already have eduroam configured then you can skip this step.
Open Settings and select 'Wi-Fi'.
Press and hold on 'eduroam' until a pop-up box appears.
Choose 'Forget network' and leave the settings screen.
If you do not see 'Forget network' as an option then your device does not have any configuration for eduroam, you can move onto Step 4.
You will need to be connected to the internet to complete this process - your device may automatically try to join the UniOfCam wireless network if that is available; check your notifications for a log-in prompt and complete that process using your CRSid (e.g. abc123) and Raven password. Or use a different wireless service, or mobile data (3G/4G) if available on your device.
Use the 'eduroam CAT' app to install the 'University of Cambridge' profile.
Open the newly installed 'eduroam CAT' app.
If prompted, allow the app access to your device's location.
You will see a list of 'Nearby Configs'. If you see 'University of Cambridge' listed here, select it.
If 'University of Cambridge' is not in the list then select 'Manual Search' from the bottom of the list and search for it. If you can't find it, please ensure your device's location services are turned on. If you're still having difficulty, try searching via the eduroam website instead.
If prompted allow the app permission to access photos, media and files. This is required so that the necessary security certificate can be installed.
You will then be presented with a summary of the configuration file.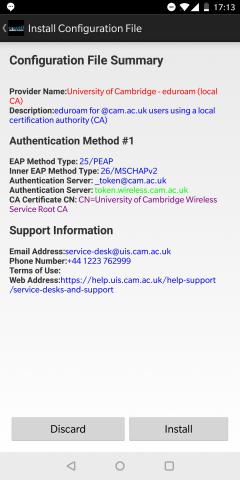 Select 'Install' and when prompted confirm that you are sure by selecting 'Yes'
For the 'username', type in the username of the network access token you created for this device on the UIS token page in the format CRSid+device@cam.ac.uk – for example, abc123+myphone@cam.ac.uk. Note that this needs to be in lower case and some devices will automatically capitalise the first letter.
Type in the password for the network access token you created for this device.
Select 'Install'
If at this stage you receive an error saying that a Screen lock is required then you will need to set one (even if only temporarily while completing this process) - go to Settings -> Security -> Screen lock (or similar) and set a PIN, Pattern or other authentication mode. Once this is done the app should successfully complete the installation of the certificate (you will be prompted for the new Screen lock authentication details).
The app will now run a series of checks. If configuration is successful you will see 6 green ticks along with the messages 'Profile installed' and 'Status:CONNECTED to SSID "eduroam"'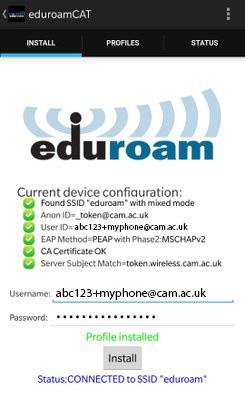 Check that you are connected to eduroam by opening Settings -> Wi-Fi and looking for 'Connected' under eduroam
If all is well then you can close the 'eduroam CAT' app.
We have had reports that, in a minority of cases, removing the app once configuration is complete has also removed the profile and therefore the connection to eduroam has been lost. If you decide to remove the app and you then lose connection you will need to reinstall it and reconfigure the profile following the steps above (some versions of Android appear to require the app to remain installed).
Your device should now automatically connect to the University's Wireless Service via eduroam whenever an access point is in range.
If it doesn't work, double check the above steps – particularly making sure your user name and password are correct. You can also try to configure your Android device manually.
If you're still unable to connect, contact the Service Desk for help.