IT staff can create tokens for shared devices owned by the institution – that is, devices that aren't owned by an individual and associated with an individual's CRSid.
You'll need to create a unique institutional token for each shared device, and this token username should not be used for any other devices. This service should not be used for devices owned and used by a single person – these should use an individual user's network access token. 
The devices will be connecting to eduroam, so they'll need to support 802.1x authentication (also known as WPA2/3-Enterprise). 
You can create new tokens and manage your existing institutional tokens via the UIS Network Access Tokens website:
Getting administrative access
Access is controlled through membership of a Lookup group that institutions can manage themselves. The group is usually called 'University Wireless administrators for [name of institution]'.
If you're already a member of this Lookup group, and your institution has institutional network access tokens enabled, you'll see a tab labelled with your institution's name on the UIS Network Access Tokens site:

If you're not a member, please contact your local IT staff and ask to be added.
 
Creating institutional tokens
Once this functionality is enabled for your institution and you've been given administrative access, click the tab labelled with your institution's name on the UIS Network Access Tokens site (see above) to access the institutional tokens page.
To create a new token, add a short description to help you remember what you're using it for. Then set the 'Valid from' and 'Valid to' dates for the token. By default, the 'Valid from' date will be set to today.

Your new institutional token's username and a randomly generated password will be displayed. Use these to set up your device. Note that, for security purposes, the password will only be displayed once – so make sure you only create tokens when you are ready to use them.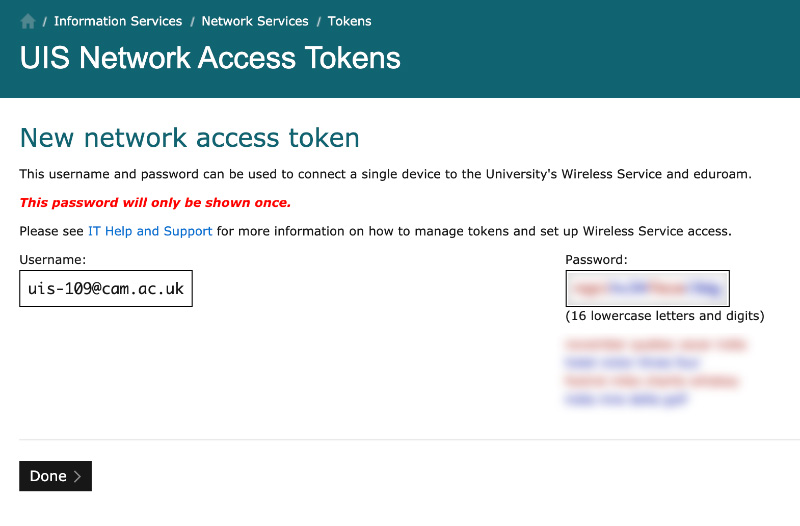 Once you have used it, click 'Done' to be returned to the token management page.
 
Managing your institutional tokens
A list of your institutional tokens is displayed in a table below the 'Create a new token' section. It shows the username, description, valid to and from dates, and status of each token.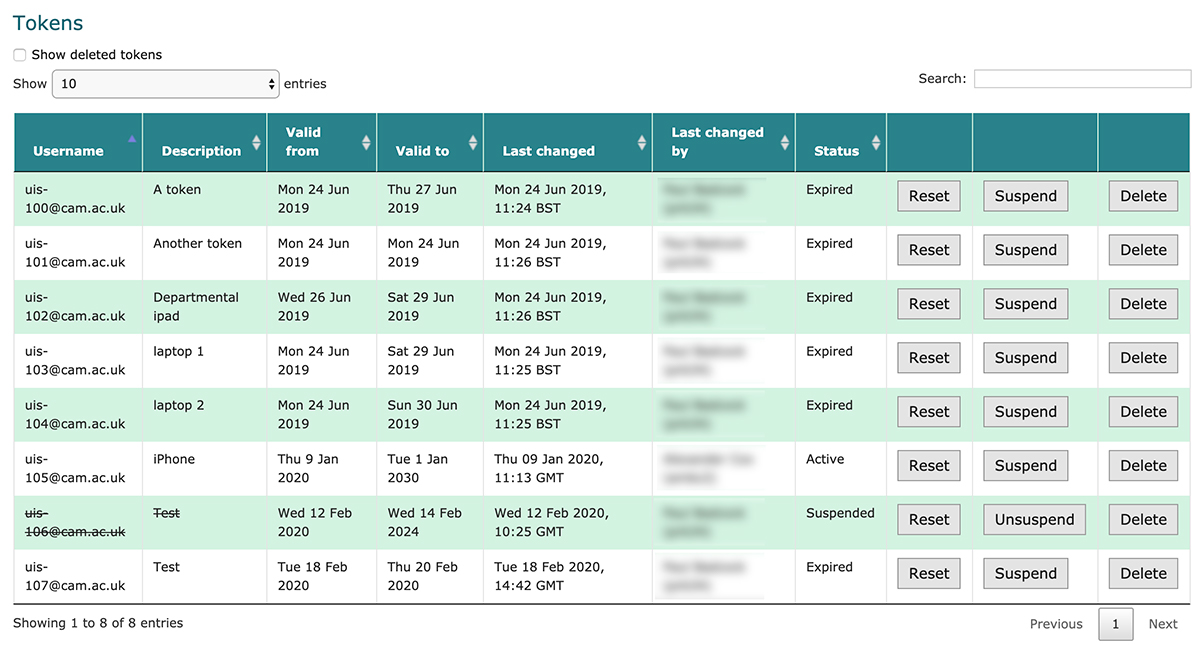 You can reset, temporarily suspend or permanently delete your tokens by clicking the buttons in this table.
'Reset' creates a new randomly generated password for a token. You might use this when you think someone else may have obtained the token's password or when you've reset a device and need to enter a username and password again.
'Suspend' temporarily disables a token. This will prevent anyone from using it to log in, but it won't log out someone who is logged in already.
'Delete' permanently deletes a token. Any device that was using this token won't be able to connect until you create a new token for it. Don't worry – you'll be asked if you're sure before the token is deleted.
Viewing your Lookup group for your institution
Access to the institutional token tab is determined by a Lookup group. Any member of this group is considered an administrator for your institution's tokens and will have the ability to create, reset, delete and suspend institutional tokens, view the audit history for the institution's tokens.
You can see which Lookup group manages your institution's tokens by clicking on the 'Admin' tab.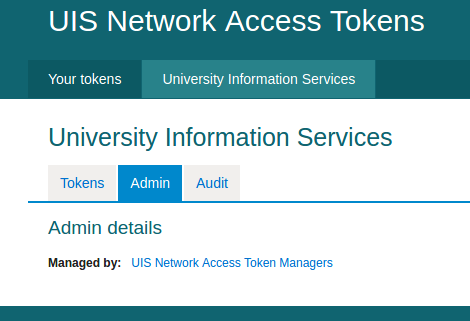 Viewing the audit history for your institution
You can see a list of all activities in your institution's tokens administration by clicking the 'Audit' tab.

Any queries?
If you'd like to enable this functionality for your institution or have any queries about how it works, please contact wireless-infrastructure@uis.cam.ac.uk