Each Tissue Item created in the system must have a Location set for it. The expectation is that the Item information and Location will allow any member of the lab to locate the item.
A Lab manager defines a set of Locations. Each record has the following properties:
short name – a compact name used for referring to this location on edit screens.
A long name.
A 'super' location – allows a hierarchy of locations to be setup. Eg a room can contain many freezers.
Active – active means items can be placed into this location.
One owning Lab.
Defining Locations allows the system to report on the Items stored within them.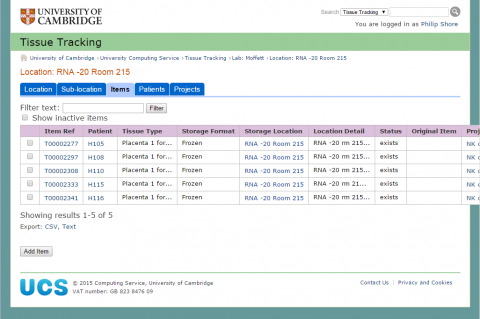 For Locations that are more precise, but do not need to be reported on, you can enter free-text in 'Location Details' on an Item. An example use would be to enter a grid reference for items in a box array. It is not necessary to report at this fine grained level, but it is important information to record.