How to set up the native macOS applications such as Mail, Calendar, Contacts and Notes to work with your Exchange Online mailbox.
The use of Apple Mail and Calendar with Exchange Online often leads to unpredictable bugs and unintended behaviour. For this reason, we strongly recommend using macOS Outlook or Outlook Web Access.
If you are not going to use Outlook, where possible, please upgrade macOS to the latest version to minimise any unexpected behaviour when using Exchange Online email.
Basic Exchange Online productivity and collaboration functionality is provided natively by macOS, but please be aware that:
Mail may take a long time to index emails for large mailboxes after migration or to complete bulk email moves between mailboxes.
Shared Mailboxes are not supported by macOS Mail.
Editing Calendar entries may lead to duplicated events.
Calendar may not exhibit the correct behaviour when cancelling an event in a series.
There is minimal integration with other Microsoft 365 services such as Teams.
Additional functionality provided by Microsoft 365 may not be available in macOS native applications.
 
Before you start
If you haven't done so before, sync your Raven password to the Blue Active Directory by changing your password on the Raven password management site. You can 'change' it to your current password if you want to keep using the same one – the important part is that you run through the process to trigger the synchronisation process. It may take up to 3 hours for the synchronisation to take effect.
1. Mail (the Apple Mail Application) will generally be pre-installed in the dock on your computer. If it isn't then open Applications and locate it. 
2. Double click (in Applications) or click (if in the dock) to start the program.
3. If this is the first time you've used Apple Mail on your Mac you can skip to Step 4, otherwise click Mail > Add Account: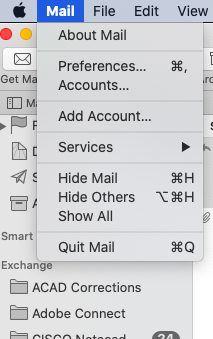 4. Select Exchange as the account type.
5. Enter a display name and your @cam.ac.uk email address.
    The actual display name seen by other users will be as set in Lookup – see Manage your Address Book Listing.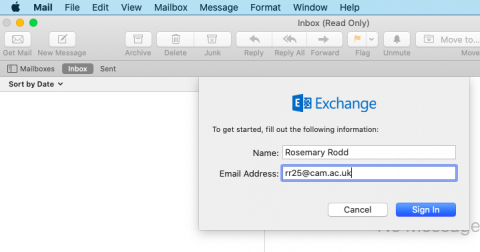 6. Click Sign In: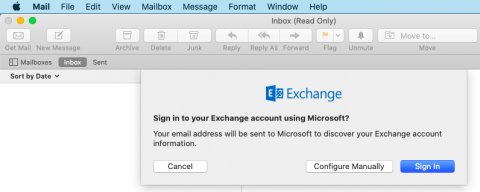 6. If you get the prompt shown below select "Work or school account" to locate your Cambridge Exchange account: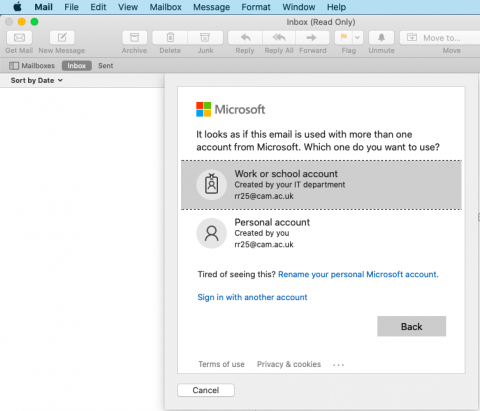 7. Sign in with your Raven password
Note: you should have synchronised your Raven password already - if there are problems at this stage, try synchronising, if you have not done so, and wait a at least 30 minutes for this to propagate.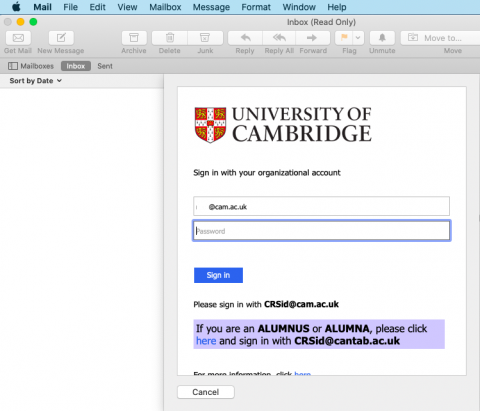 8. Select the apps you want to use with the account. Generally you will want to add at least the Mail and Calendar applications so that you will be able to interact with the Exchange Online calendar and send and receive meeting invitations:
9. Click Done to finish setup.
10. Any folders which you have set up on your Exchange account will be retrieved automatically without any need to subscribe to them individually. Folder contents will typically not download until you open a folder and open one of the messages it contains.

11. To activate the Calendar application for the first time, locate it in Applications and double-click to run it. Typically you would then leave it open in the dock so that it remains synchronised with Exchange.
12. On first run the app will ask whether you want to make Calendar your default calendar application. You don't need to accept this in order to synchronise with Exchange.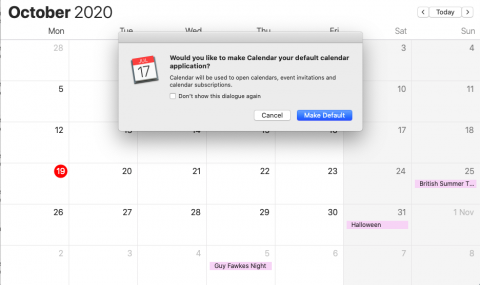 13. It generally takes 10-15 minutes for existing meetings in your Exchange calendar to appear in the Calendar app and may trigger some unexpected invitations or reminders which you can ignore.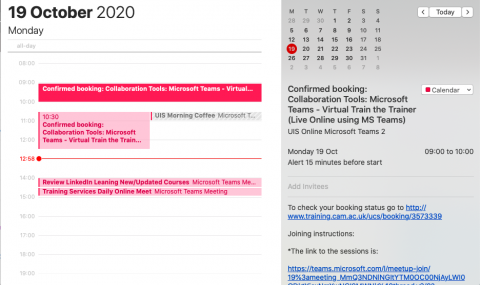 14. You can accept and send invitations via Exchange Online using the app. To send an invitation, create a new calendar event and add invitees by entering their @cam.ac.uk email addresses. To accept an invitation change your status in the Calendar app using the My Status pulldown menu or accept in Mail.