The University of Cambridge Wireless service provides Wi-Fi coverage at most Departments, many Colleges, and in an increasing number of outdoor locations throughout the University and city centre.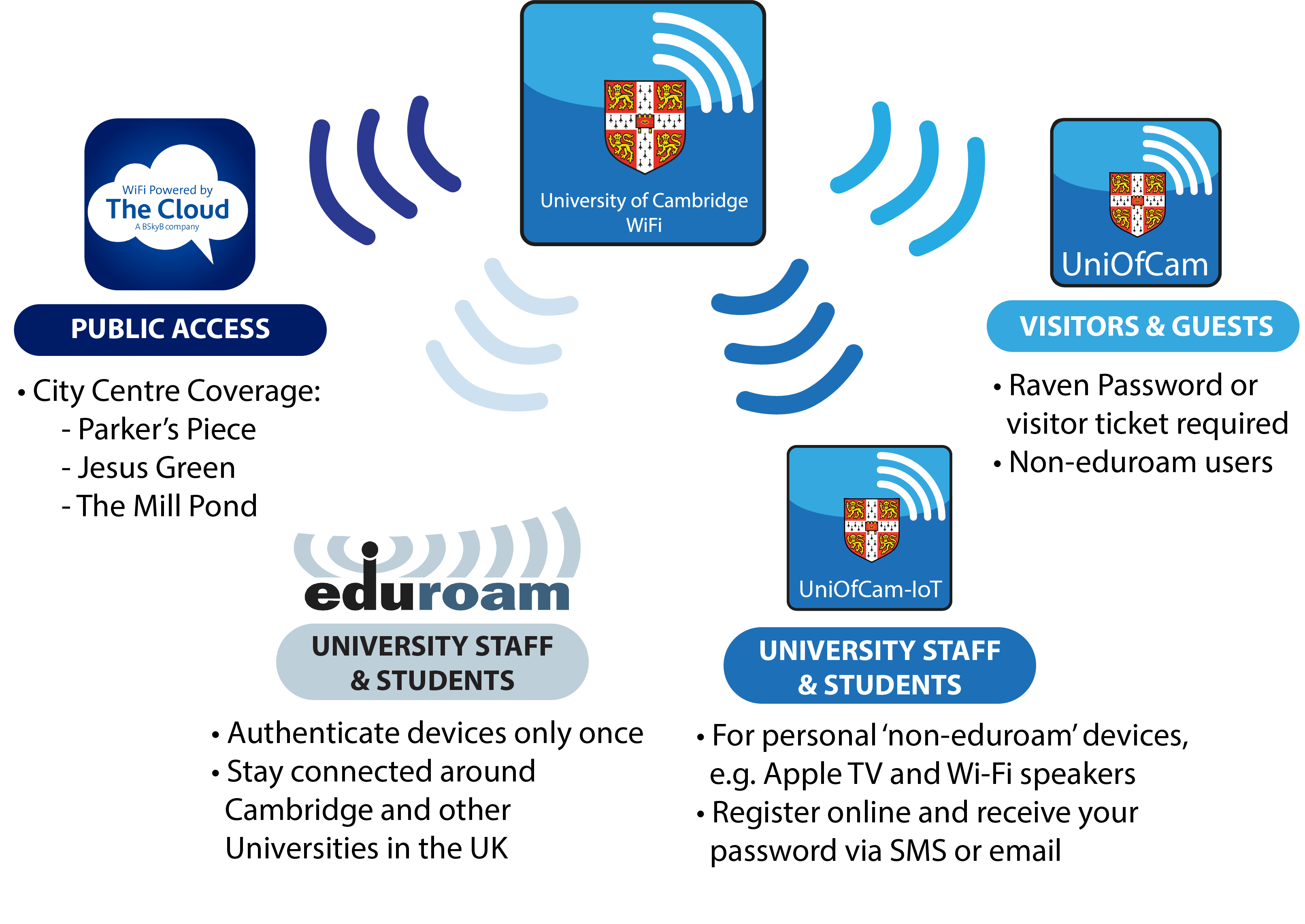 Three services are supported:
eduroam is an international initiative for academic visitors or internal users. To use eduroam, users will need to explicitly configure their wireless devices. Visitors to the University will need to set up eduroam access at their home institution before they arrive in Cambridge.
 
UniOfCam is a browser-based service that is available to users with Raven accounts who are registered as current users and to guests of the University who have a temporary ticket. If you need to provide wireless access to a visitor to the University, this is the service to use if they do not have an eduroam account.
 
UniOfCam-IoT is a service is for personal devices such as:
 

media streaming devices like Apple TV
smart speakers like Amazon Echo
equipment such as printers.

It's for devices like these that can't be set up on eduroam, but can accept a Wi-Fi password. They also need to be able to support WPA2 or WPA3-PSK.

The service is designed for staff and students to use with personal devices in College and University buildings. It's not intended for devices that are shared by lots of people in an institution, like a shared office printer, or infrastructure devices like a building management system.

The Cloud is a free service for the general public available in some of the parks and open spaces around Cambridge. The accounts are with The Cloud (a private company) rather than the University, and are created using a self-registration method.
 
Find out more about our services
Wireless technical information
UIS can provide access points (APs) to departments, colleges and other institutions interested in renting them. These APs are centrally managed by the UIS and will broadcast the UniOfCam and eduroam services.
Wireless site surveys
Our team of experienced and qualified wireless engineers can perform extensive and detailed wireless surveys. They're familiar with the University environment and have considerable experience of the different types of University institution and the challenges they present. Full wireless survey reports are produced, complete with recommendations on AP model, antenna, location and orientation.
Temporary tickets for wireless access
Tickets enable visitors to the University (such as academic visitors and conference guests) to be given temporary access to the wireless service.
RADIUS service
UIS operates a RADIUS infrastructure for the purpose of authenticating, authorising and accounting network access requests. This service is federated with eduroam(UK) which is, in turn, linked to the international eduroam federation. Access to the RADIUS service is available to University and College institutions running their own internal RADIUS proxies and servers.
Technical information