Exchange Online Protection (EOP) is a spam and malware filter available as part of the Exchange Online service. It assesses whether email is spam via both EOP's own Spam Confidence Level ruleset and the SpamAssassin scores assigned by our PPSW. Any item of mail that's ranked at a value of five or higher from either of these checks is sent to a central quarantine area, where it is retained for 15 days before being deleted.
There is no way to disable Exchange Online's quarantine function, but there are two ways to deal with messages that have been quarantined.
 
Notification emails
You'll get a notification email from quarantine@messaging.microsoft.com listing any messages that have been quarantined in the last 24 hours – for example:
You can select the 'Release' or 'Report' links in this email to accept or reject them. However, to be particularly cautious in guarding against potentially fraudulent emails, we recommend you manage your quarantined messages via your personalised web page.
 
How to use your personal Exchange Online quarantine admin web page
Your personal quarantine web page lists all the messages that have been withheld over the past 15 days (even after you have released them to your inbox).
It will look like this: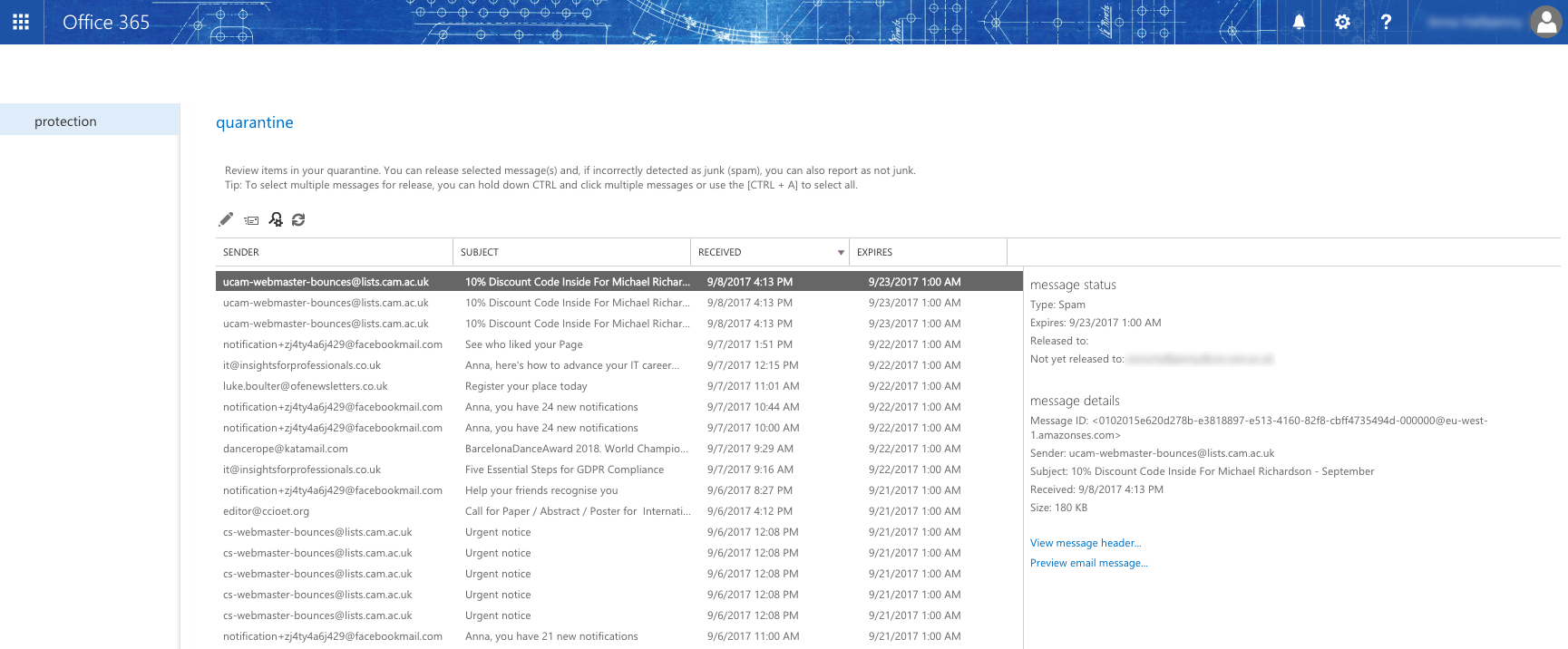 Review the items in your quarantine and ignore any junk messages. If you want to keep any messages, you have two choices:
quickly release a message to your inbox with a single click

release a message to your inbox and train Exchange Online that it is not junk (it's only one extra click, and worth doing).


 
How to release messages to your inbox (without reporting them as 'not junk')
Highlight a message and select the envelope icon to release it to your inbox (this doesn't educate Exchange Online that it is 'not junk', and other messages from the same sender may get quarantined in future):

Tip: To select multiple messages for release, you can hold down CTRL and click multiple messages or use the [CTRL + A] to select all.
 
How to release messages to your inbox and educate Exchange Online that they're 'not junk'
It's worth taking the time to report messages as 'not junk' – you're helping Exchange Online to learn which messages you want to receive and, over time, this will improve the quality of its spam filtering so you'll have to deal with fewer quarantine notifications:
Highlight the message(s) and select the pencil icon:

 

In the dialog box, select the link to Release selected message(s) and report as false positive

Select Close.