How to set up eduroam on a mobile device running Windows Phone
These instructions are for configuring eduroam for devices running Microsoft Windows Phone 10, and should also work on Windows Phone 8, although the layout of some of the screens may differ slightly.
Before you begin, make sure you are in a location where the eduroam wireless network is available and have created a network access token for your device on the UIS token page.
Setting up eduroam on Windows Phone

Swipe your finger down from the top of the screen.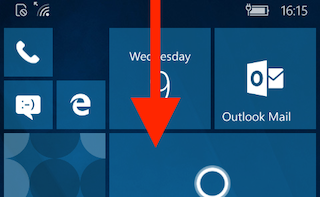 In the notification panel that appears, tap All settings.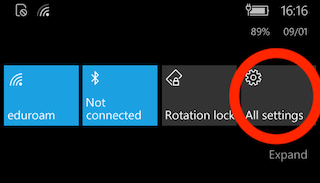 On the Settings menu which appears, tap Network & wireless.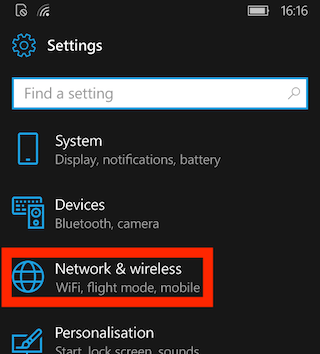 Tap WiFi.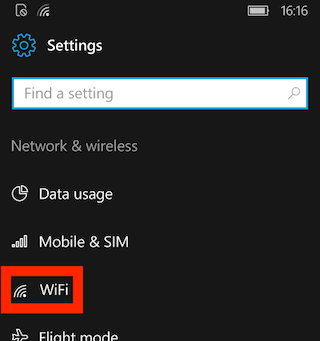 Select eduroam from the list of available networks.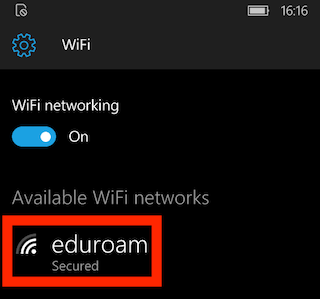 Sign in to the network with your username and password.
For the Username, enter the username of the network access token you created for your device on the UIS token page in the format CRSid+device@cam.ac.uk – for example, abc123+myphone@cam.ac.uk.
For the Password, enter the 16-character password for the same network access token. Note that this NOT your Raven password.
Ensure the server certification validation is set to 'Always ask me' and the EAP method is 'PEAP MS-CHAP v2' (they should be the defaults), and tap Done.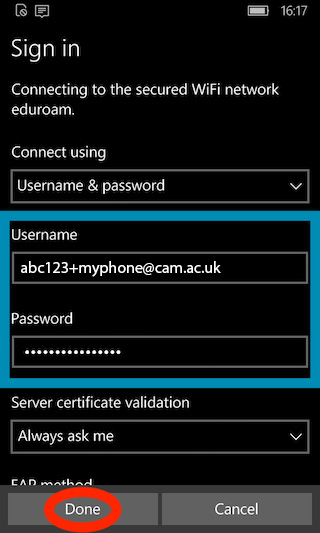 You'll be asked to accept a certificate. Check that the details match those shown below, and then tap Accept to complete the connection.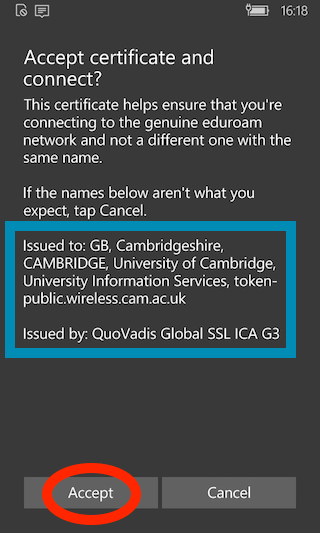 The relevant fields are:
Issued to: GB, Cambridgeshire, CAMBRIDGE, University of Cambridge, University Information Services, token-public.uis.cam.ac.uk
Issued by: QuoVadis Global SSL ICA G3
The certificate will need to be updated periodically (typically every 1-2 years).  When this happens, the above screen will be displayed with the new information, when you next connect.  Before accepting updated details, you should always verify the information displayed against this page (which will be correspondingly updated): the certificate is used to confirm that you're passing your username and password details to the University of Cambridge systems and not a third party.

Your device should now automatically connect to the University's Wireless Service via eduroam whenever an access point is in range. If it doesn't work, double check the above steps – particularly making sure your entered the user name and password correctly. If you're still unable to connect, contact the Service Desk for help.