The Falcon content management service creates hosted individual websites in a managed environment, ready templated in the University house style and with a range of functionality already available.
Falcon migration
Falcon started in 2010 and by 2017 there were over 400 sites, over 330 of which are live. The first iteration of Falcon was based on the open source content management system Plone. We are currently in the process of migrating the Falcon service to the leading open source content management system, Drupal.
Who is Falcon for?
Falcon is ideal for any non-student University group requiring a website. Groups who find it particularly appropriate are:
Departments and department-associated sites
Research groups
Doctoral training Programmes and Centres
Collaborations across the University
Research initiatives and networks
Conferences, events and meetings
Sites can be closed down easily, so Falcon is ideal for short-term or fixed-term use.
Example sites (ask for other examples):
Paid-for site migration can usually be undertaken, depending on availability of staff. This is charged for at the standard consultancy rates.
 
What can Falcon do?
Allow a certain amount of configuration of the site and ability to manage users and groups and their access to the site and for updating pages
Work within the standard University templates so that breadcrumbs are generated automatically, left-hand navigation is constructed, etc.
Serve standard web pages with images, pdfs and Word documents and add embedded rich content: the web pages are edited and the images, pdfs and other documents are uploaded through the web browser.
Give access to in-built added functionality to add dynamic information, forms, forums and so on.
Solve website delivery problems for £100 per year. 
When you get it a default site looks like this: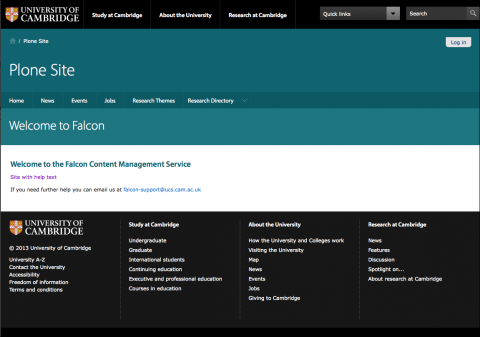 By default you have 'News', 'Events', 'Jobs', 'Research themes' and 'Research Directory' in your site and showing in the navigation bar. You can remove or hide any or all of these - if you hide them you can bring them out again when you want.
 
Access to in-built added functionality
There are various additions to help you manage the site and its content:
You can add pre-configured items (feeds/static text/link lists) in right panel of any page and on main area of home page of site - this allows you to add rss feeds and embedded rich content such as google calendars, maps and video
There is in-built management of news, events and jobs - all of these produce rss feeds that can be used by others and may be added to the right panel of pages
You can configure footer information for the whole site and change it at a folder-by-folder level
You can add a person-based directory (initially called Research Directory) in which people are cross linked with categories (initially Research Themes) and could be linked with groups (initially called Institutions or Departments). People can also be linked to committees and collaborators.
You can manage other functionality such as forms, bulletin boards, version control on pages and add redirections.
 
Adding a person-based directory
A person-based directory is available on your new site for you to use if you wish. By default people in the directory become members of the site so if you add their crsid@cam.ac.uk alongside their names they will be able to log in themselves and fill in information, or the admins can do it and ask them to correct the content. If you don't wish them to change their profiles then you don't have to add their credentials, and they won't have access.
When setting up a directory you need to think about
The staff types (classifications) you want for the people in the directory
The categories (initially Specialties or Research Themes) that you want to put them in
Whether you also want to put them in groups (initially called Institutions or Departments).
People can also be linked to committees (which creates a group) and to collaborators.
Examples of directories may be found on these two Falcon sites, amongst others:
Manage other functionality
There are various other additions to help you manage the site and its content:
A form generator. Once you have created a basic form folder, there is a long list of additional functions you can add.
A message board to add discussion forums.
Metadata for pages - on each page the editing bar has a tab 'seo properties', which lets you add metadata for the page.
Granular control of access to pages both to view and to edit, including incorporation with lookup groups.
Pages are version controlled.
Google analytics code can be added into the Site Setup
Redirections can be set up.
Keywords within the people directory can be managed so that similar keywords added by different people can be selected and merged into the same term.
Cross-institutional Falcon sites can be Shibboleth-authenticated - people can obtain third-party Shibboleth identities if need be.
 
What do I do next?
We are in the process of changing the underlying technology of the Falcon service from Plone to Drupal. The Falcon-on-Drupal project site contains further information, including service features and training.
If you have any queries about the Falcon service or would like to set up a site, please contact falcon-support@uis.cam.ac.uk.
Payment for the site
Payment of £100 per year is initially requested when the site has been made 'live' on its domain name, or shortly after, and afterwards on the annual anniversary.
Last updated: May 2019