Having an end-to-end labelling scheme implemented throughout the Data Centre infrastructure simplifies troubleshooting and contends with the inevitable moves, adds and changes that occur periodically. Accelerating tracing and problem-solving measures, and repairs, helps to avoid, or mitigate, downtime; saving time and money. It's sufficiently important that ANSI/TIA have developed 606-B.1 Administration Standard for Telecommunications Infrastructure, providing clear specifications for labelling and administration best practices across all electrical- and network-systems premise classes; these include data centres.
What to label?
Equipment
It is advisable to label devices front and back,  for identification purposes, with the uniquely identifiable name of that device.
 
All equipment must be inventoried and be appropriately asset tagged.
UTP cables
1.5m brown UTP CAT 6 number 660 and,
3m blue UTP CAT 6 number 33                                                                                                 
A selection of pre-labelled cables, in various lengths and colours, are available in the large metal cabinets in Build Room 3
Power cords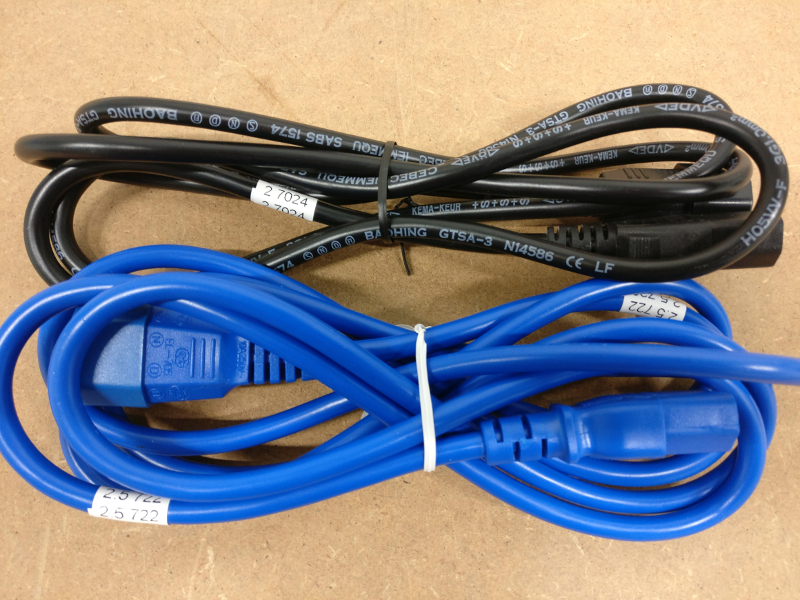 2m black power cord number 7024 and
2.5m blue power cord number 722
A selection of pre-labelled power cords, in various lengths of either blue or black, can be found in the large metal cabinets in Build Room 3
Black power cords are to be used to connect devices to power strips fed from Supply A
Blue power cords are to be used to connect devices to power strips fed from Supply B
Fibre cables
                               

Labelcore:

white - 3mm for duplex fibre cable 

yellow - 2mm for fibre cable

An example labelling scheme:

M - multi-mode fibre

2 - length in metres

010 - sequence number of length & type
Fibre label cables can be produced upon request*
(* time and volume permitting)