In the best of data centre ecosystems, a standards-based structured cabling system will provide functionality and scalability with the maximum available options for current and future equipment.
For the full article from which the summary was taken please visit: http://structured-cabling.co.uk/support/white-paper.
 
Cable plant
Overhead delivery system cable layout:
The data hall has a system to support overhead delivery of data connections to the equipment cabinets.
Cabinet inter-connects must adhere to structured cable guidelines.
There is to be NO direct patching between cabinets: All patch cabling is to be contained within individual cabinets.
The data pathways maintain a minimum separation from electrical  power and lighting in accordance with BS7671 17th Edition wiring regulations.
 
Cabling standards
A convenient reference to TIA-942 A standards for Data Centres
 
Fibre standards
Fibre installation must use 50 micron OM2 Single Mode or OM3 / OM4 Multi Mode cable to ISO/IEC11801 standards.
All fibre installations should be labelled (see Labelling standards)
 
Fibre connections
Fibre must not exceed required length by more than a meter.
 
Copper standards
Copper jumpers must be minimum CAT6 with booted RJ45 connectors.
All copper data cables must be labelled.
A selection of labelled Cat6 cables are available in Data Hall 3's Build Room.
UTP cabling must not exceed the required length by more than one foot within the cabinet.
The maximum length for UTP cables within a cabinet should not need to exceed 3m. See: http://blog.tpcwire.com/the-dos-donts-of-installing-ethernet-cable
 
Power cords (cables)
Use cords of minimum length – DH3 uses MCBs that are slower to trip; consequently, there is a greater chance of electrocution.
It is assumed that systems will have redundant power supplies. These redundant power supplies must have their power cords plugged into separate power strips.
Colour co-ordinate cords to power strips: Supply A – black, Supply B – blue.
Use labelled power cords.
Power cords must be segregated from data cables as much as practicable.
Power cords must be factory certified.
 
C13 (F) / C14 (M)
The C13 connector and C14 inlet are commonly found on computers, servers, routers, and switches. Power cord sets utilizing a C13 connector and a C14 plug are commonplace in data centres to provide power from a RPDU (Rack Power Distribution Device / Power Strip) to a server.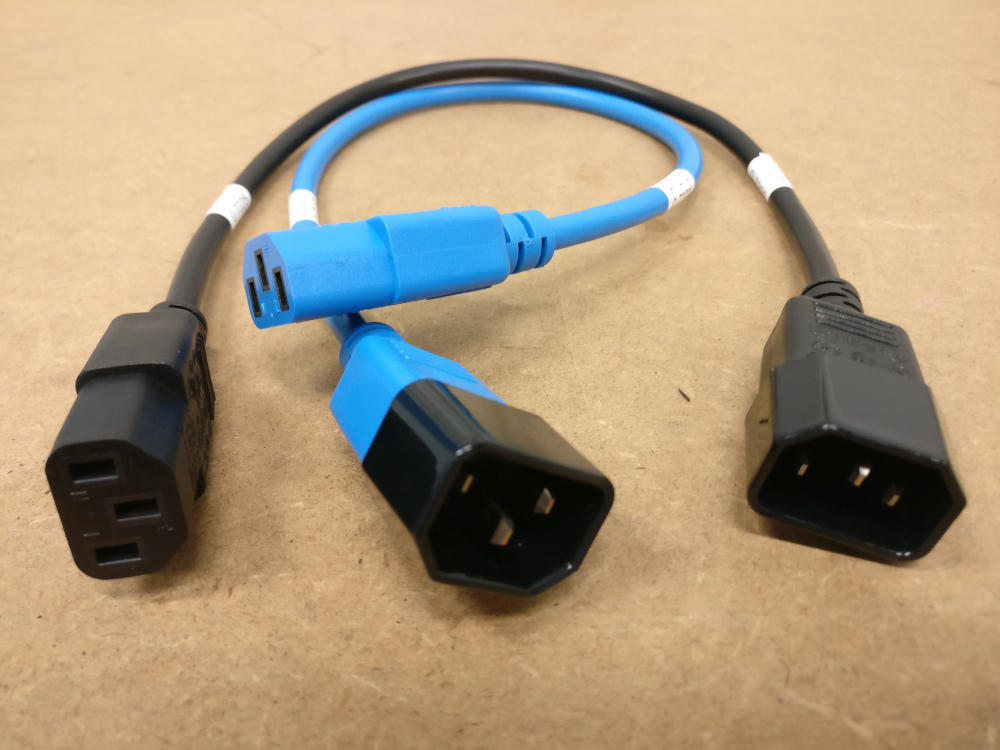 Available in black and blue
Available in 0.5m, 1m, 1.5m, 2m
C15 (F) / C16 (M)
Similar in form to the C13/C14 coupler, except with a ridge opposite the earth in the C16 inlet (preventing a C13 fitting), and a corresponding valley in the C15 connector (that doesn't prevent it fitting a C14 inlet).

The C15/C16 is temperature rated for 120 °C, rather than the 70 °C of the similar C13/C14 combination.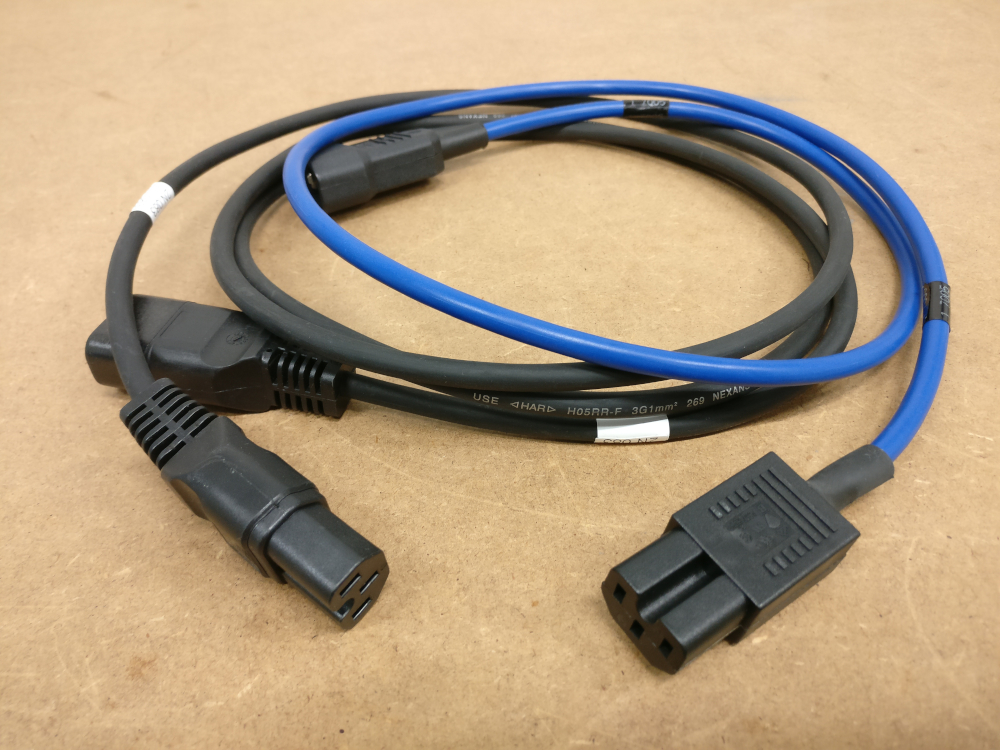 Available in black and blue
C19 (F) / C20 (M)
This coupler is used for some IT applications where higher currents are required, for example, on high-power workstations and servers, uninterruptible power supplies, power distribution units, large network routers, switches, blade enclosures, and similar equipment.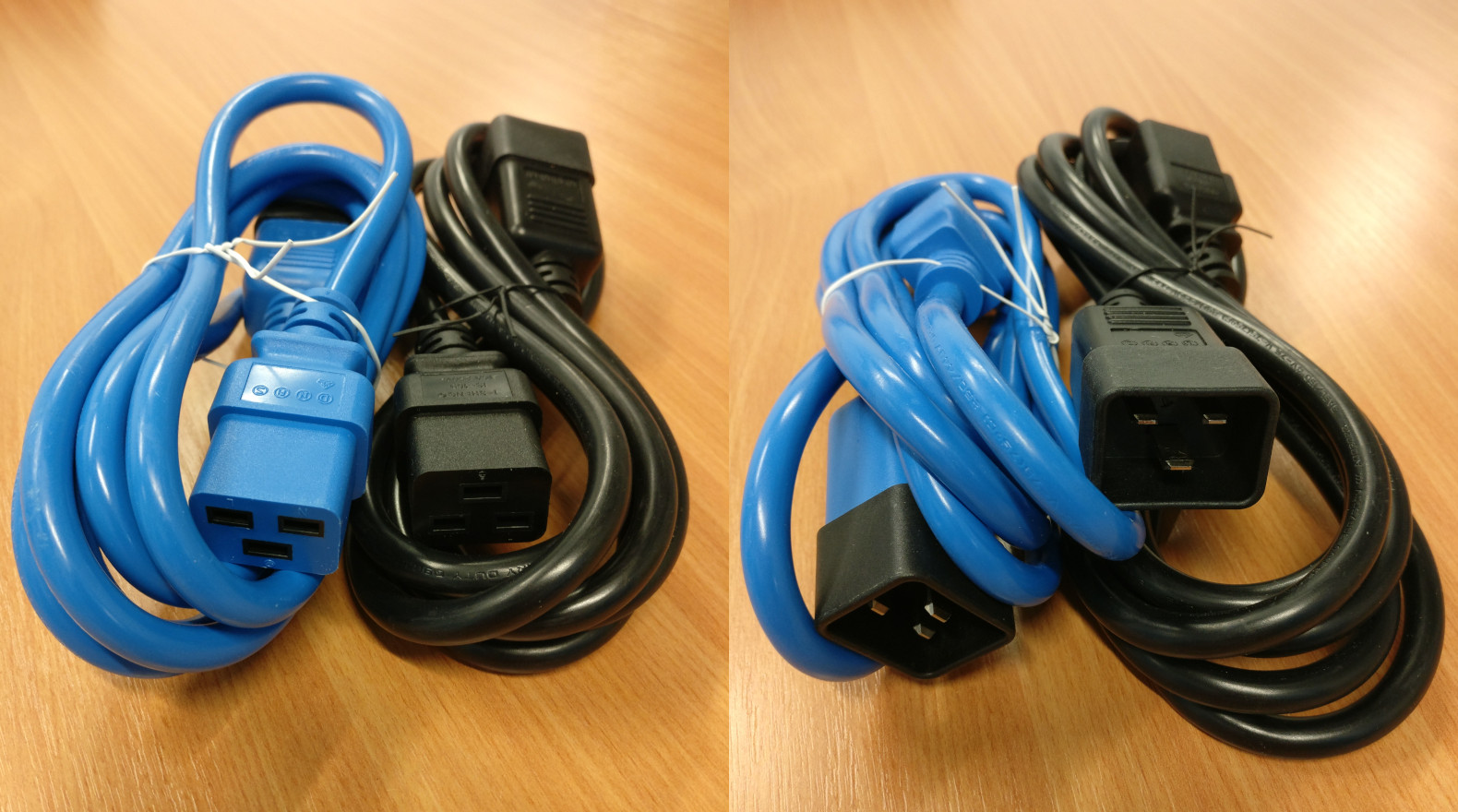 Available in black and blue
Available in 1m, 2m in blue
Available in 2.5m in black
C19 (F) / C14 (M)
C14 to C19 power cord transforms a C20 plug into a C14 plug for connecting to a C13 outlet on a power strip or rack-mounted UPS system.
It is used for powering computers, servers and other network devices
Available in black only
Available in 1m, 2m
Limited stock available
C5 Clover Leaf (F) / C14 (M)
IEC Plug C14 to Cloverleaf Plug C5 Converter Adapter Cable
Converts a standard C14 to a C5 connector, ideal for changing an IEC connection into a male cloverleaf plug C14 IEC Socket C5 Cloverleaf Male Plug
Rated up to 2.5A 250V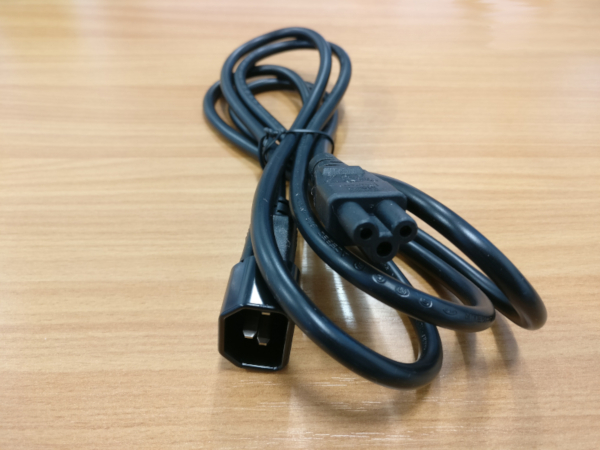 Available in black only
Available in 2m only
Limited stock available
For more on power cords, see:
http://www.blogquail.com/the-difference-between-iec-connectors/