Most equipment destined to be operated from within a data centre will install in the racks effortlessly – particularly with modern rack rails having been better designed. However, there will always be exceptions...
Network switches
Equipment owners wanting network switches to be orientated with ports facing into the hot aisle must ensure that the airflow – the flow of air vented from the appliance – conforms to hot-aisle containment requirements.
It is highly desirable that airflow sleeves are included as part of the installation of network switches.
For further details refer to the Cabinet air flow section on this page: https://www.uis.cam.ac.uk/about-us/data-centre/wcdc-standards/wcdc-cabinet-standards
Equipment with 3-pin plugs
Equipment owners needing to rack mount devices requiring three-pin power plugs, must make a prior request to DCH for the installation of a dedicated three-pin socket within the cabinet (see Fig.1 below).
Fig.1
For an example of an unacceptable installation, see Fig.2 below: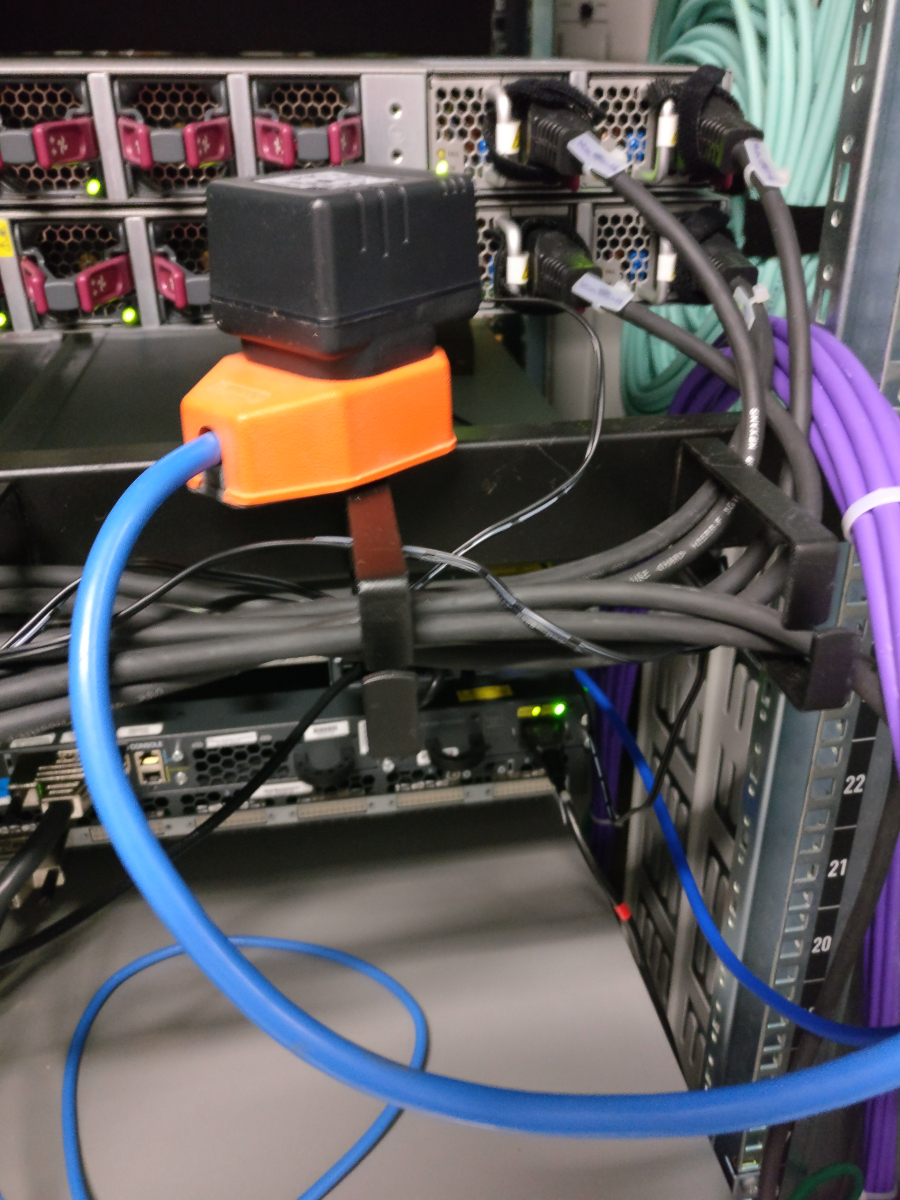 Fig.2
PAT Testing
These sockets, and the appliances attached to them, are subject to PAT testing:
Our (DCH) responsibility:
DCH are responsible for the in-cabinet sockets (see Fig.1 above)
These sockets will be tested annually
Clients' responsibility:
Any piece of equipment plugged into a socket is the responsibility of the client
DCH expects these devices to be tested by the client, or a repreentative of the the client, annually
Failure to accede to these protocols may result in the device being switched off
PAT reference:
https://www.pat.org.uk/is-pat-testing-a-legal-requirement/
Devices having only one power supply
Equipment owners, having essential equipment capable of only supporting a single Power Supply Unit (PSU), should notify DCH of this requirement at the earliest opportunity.
There are two options to mitigate the vulnerability of having a single PSU, either a simple Automated Transfer Switch, illustrated in the picture below: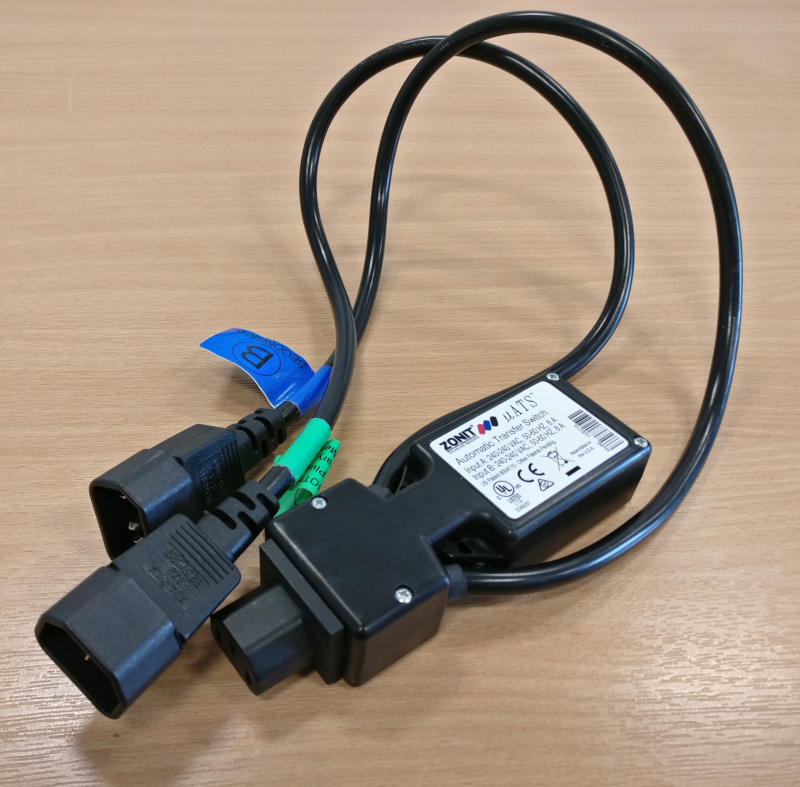 Fig.3 - Simple ATS
Or a purpose built ATS device, of which the following are examples...
https://www.apc.com/shop/uk/en/categories/power-distribution/transfer-switches/rack-mount-transfer-switches/_/N-1eg32mv?switchCountry=true
Devices narrower than 19"
Equipment owners having essential devices less than 19" wide, for example, firewalls, KVMs etc., it is essential that suitable rack mounting equipment be sourced prior to installation.
An example of a rack mount kit for a Fortinet firewall:

Fig.4: Front view

Fig.5: Rear view
Deeper devices
Equipment owners wanting to install deeper devices (typically disk array chassis that require deeper spacing between rack struts) should notify DCH of this requirement at the earliest opportunity, particularly if the designated cabinet already hosts other equipment.
An indication of the extent to which rack strut depths can be reduced or extended is provided on the following page:
https://www.uis.cam.ac.uk/about-us/data-centre/wcdc-standards/wcdc-rack-standards