If you were previously using mail processing rules on Hermes (for example to sort mail into folders automatically) this functionality can generally be replicated for Exchange Online using the settings options in MS Outlook or other email clients. Unfortunately there is no automatic way to convert your existing mail processing rules as part of the migration process.
Reasons for wanting to do some automatic processing of emails fall into three main categories:
Potential difficulties resulting from setting mail rules
Interacting with Exchange Online via several different methods can cause some unexpected effects when using rules for mail.
Many rules that are set up using Outlook Web App (OWA) will continue to act whether or not you are personally logged in (generally referred to as Server Side rules). Often this is what you want — for example the point of a vacation message is that it is sent when you are not logged on — but you need to be aware that some rules will make changes that affect the outcome if an email client is subsequently used to access mail.

If rules are set in an email client it may change the behaviour of emails that are intended to add an event to your calendar. An example would be if you set a rule in Thunderbird which sorts all of the automated responses from Employee Self Service that relate to your annual leave into a folder. Thunderbird can't directly make use of the calendar appointment but, by moving it into a folder, it makes it no longer visible in the Outlook Online inbox, although searching the inbox will find the appointment and allow you to add it to your calendar.
Out of office messages
Setting an out of office message in the Outlook Web App
This is most efficiently done in a browser using the Outlook Wep App which will enable you to block out your vacation period in your calendar at the same time.
Click the Settings gear wheel icon




Click View all Outlook settings

Click Automatic replies




Turn on Automatic replies to access all the options




Use the check boxes to enable automatic replies during a set time period or simply turn them straight on.

Enter the message(s) you want to send in response to emails. You can choose to have different responses to people within your organisation and outside it and limit responses to externals to those within your contacts. (Note that it's not possible to respond only to externals).
Setting an out of office message in the Outlook (Windows) desktop client
1. Click the Files tab to go to Account Information.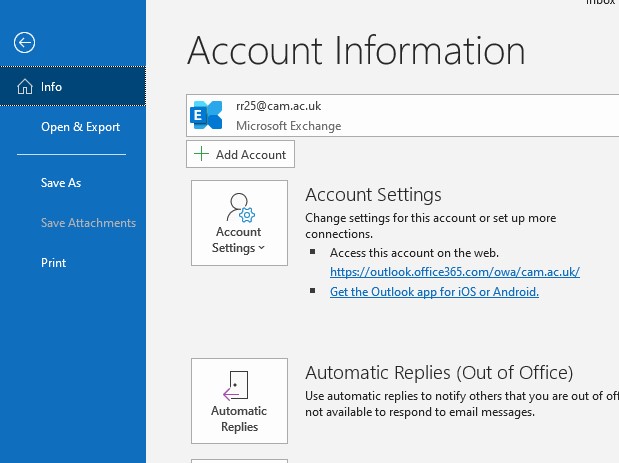 2. Click the Automatic Replies button to set up automatic replies (sometimes called "vacation message" or "out of office"). You can configure various options – for example, you can set up replies that will begin operation at a specific time in the future and you can set different replies to people inside and outside your organisation. There is a default message which can be customised as required.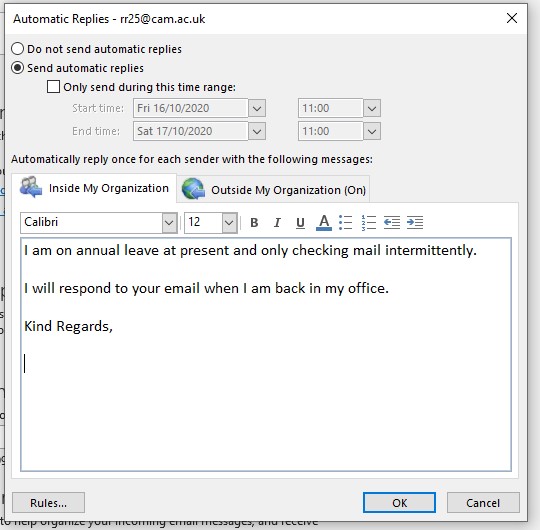 3. You can set up customised responses for people outside your organisation. This can be adjusted if you wish so that only your existing contacts get a response, which means that spam messages don't get confirmation that they are going to a real address.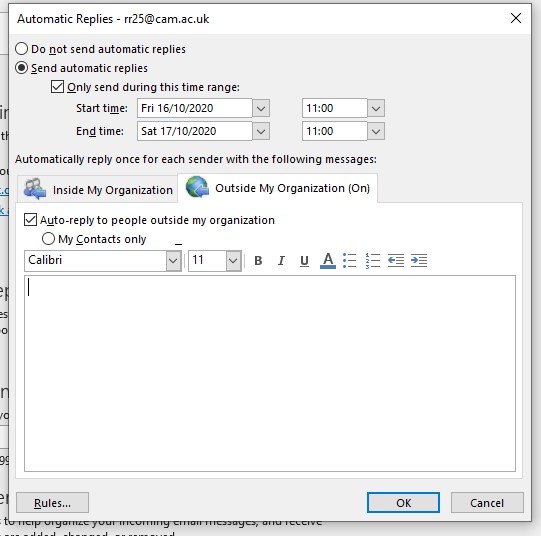 4. If you click the Rules button you can set specific actions for messages received while you are out of the office that match a pre-set criterion (for example you might agree with your team that you want emails marked "EMERGENCY" to be forwarded to you at a personal address or to your deputy).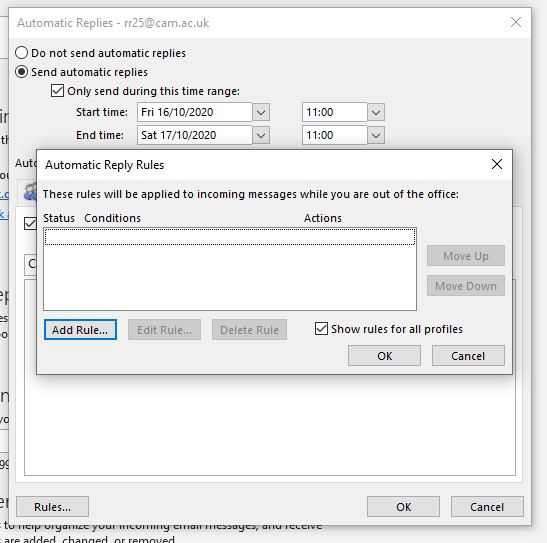 5. The Out of Office rule wizard will let you create rules that check incoming messages and perform an action when they find a match.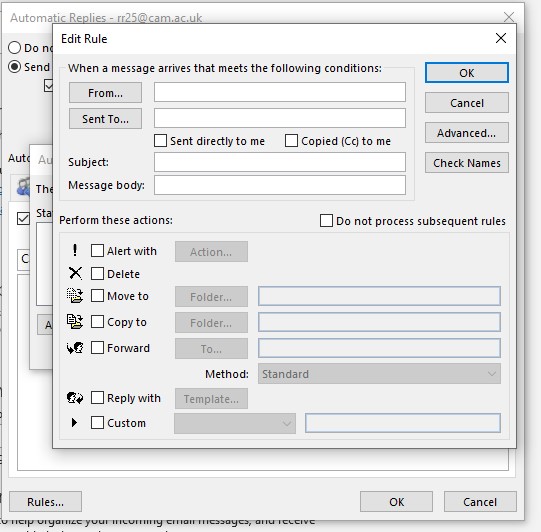 Setting an Out of Office message in the Outlook for Mac desktop client
Select Automatic Replies from the Tools menu




Enter your automatic message(s). You can set different messages for internal and external recipients and control whether replies are sent to all external senders, only to those who are in your Contacts or only to senders within your organisation. You can control whether replies are sent until you turn them off again or for a pre-set span of dates:
You can't set a vacation message directly from Thunderbird or Apple Mail.
Setting up rules for automating mail sorting actions
Set up rules in the Outlook Web App
Click the Settings icon (looks like a gear wheel) then View all Outlook settings at the bottom of the panel:




Click Rules




Click Add new rule

Use the drop-down menus to set the conditions you want to match and the actions that you wish to follow when a match is found (for example move the email to a specific folder)



Set up rules in the Outlook (Windows) desktop client
The Outlook desktop client for Windows contains a Rules Wizard which will guide you through the process of setting the conditions which you want to use to trigger actions on your emails. It can also create rules that will only run when the Outlook client is open, for example you can set an alert pop-up or sound which will play in response to emails from specific people or which have specific words in the subject.
1. Click the Rules icon in the ribbon (if this is not visible you may need to change from the simplified ribbon to classic view). You could also click File and select the rules button on the Account Information page.

2. Select the action you require — Create Rule if you want to set up a completely new action or Manage Rules & Alerts if you want to modify an existing rule.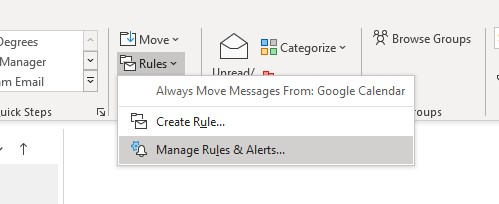 3. You can start from a template for common rule actions or from a completely blank rule.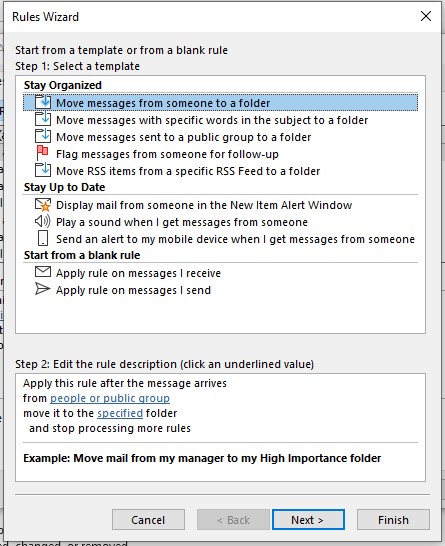 4. Select the conditions you want to match from the checklists offered to you.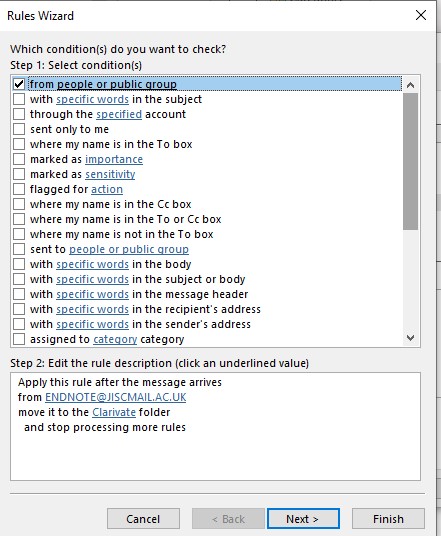 4. Work through the options and then use the next set of checkboxes to select the actions you wish to be performed when Outlook finds a match. Rules will be applied in the order in which they appear in the list so in some circumstances you may need to rearrange this, for example if you want to move a message to a folder and then display an alert.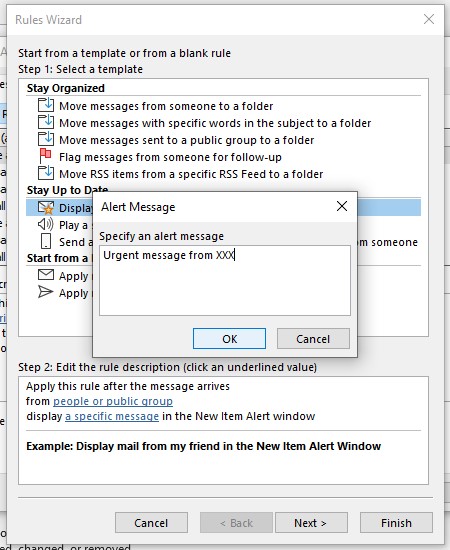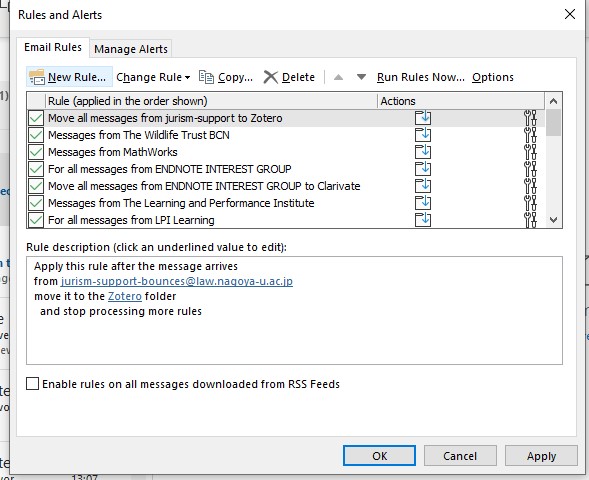 Set up rules in the Outlook for Mac desktop client
This looks slightly different from the process in Outlook Online and you can set up rules that only apply when the client is running (for example playing a sound)
Select rules from the Tools menu:

Decide whether you want to set a Server Rule or a Client Rule:

• Server rules must run on the selected mailbox and will act whether or not the client is logged on.
• Client side rules will only run when the client is active and can perform actions on the local machine (for example causing it to play an alert sound for certain messages).

[NOTE: You can also use the Rules icon in the ribbon toolbar to create rules – this method creates rules on the server.]

Click the plus sign to create a new rule.


Use the email wizard to set up the criteria.

You can set up complex criteria by clicking the + button in the match fields to add additional criteria which must be matched before the action will run and you can use the + button in the action box to set multiple actions that must be performed when a match is found.

Filtering junk email
See also: Dealing with junk/spam email
The Outlook Web App will automatically move emails which it detects as "junk" or "spam" into the Junk Email folder:




You can adjust this action by going to Settings and selecting Junk email. This enables you to add senders to the junk list or to the trusted senders lists and also block or allow specific domains (for example to ensure you receive all messages from your own organisation).

Microsoft documentation