If you prefer to use an app to access your UMD Windows Virtual Environment, you can install and use the Citrix Workspace app. This will give you additional benefits such as automatic local default printer mapping.
 
Minimum requirements and compatibility
See full details: Prerequisites to install Citrix Workspace on macOS
Install desktop app

Use in web browser

Operating system

macOS Big Sur (11.2.2)
macOS Big Sur (11.0.1 and 11.1)
macOS Catalina (10.15)

Hardware

257.7 MB of free disk space

Web browser

Safari 7.0 and later
Mozilla Firefox 22.x and later
Google Chrome 28.x and later

A working network or Internet connection to connect to servers
A Raven user account
Installing Citrix Workspace
1. Open your web browser and go to:
https://www.citrix.com/workspaceapp/
The site will detect whether you are running Windows, Mac or
Linux and prompt you to download the appropriate client. In this example macOS is being used.
2. Click Download for Mac.
3. The CitrixWorkspaceApp.dmg disk image file will download. It should open automatically, but if not, double-click it: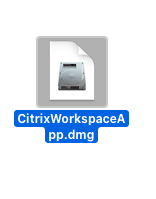 4. Double-click the Install Citrix Workspace icon: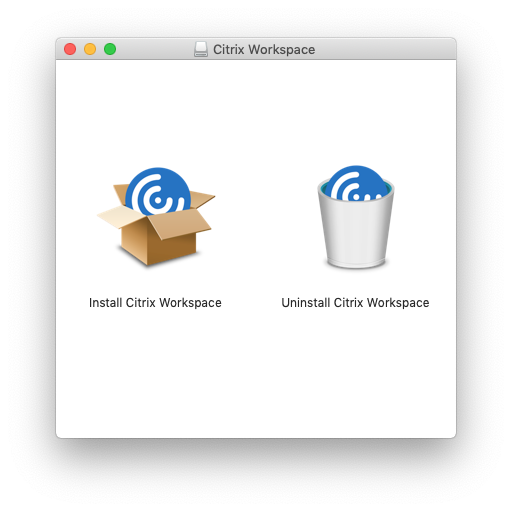 5. Click Continue: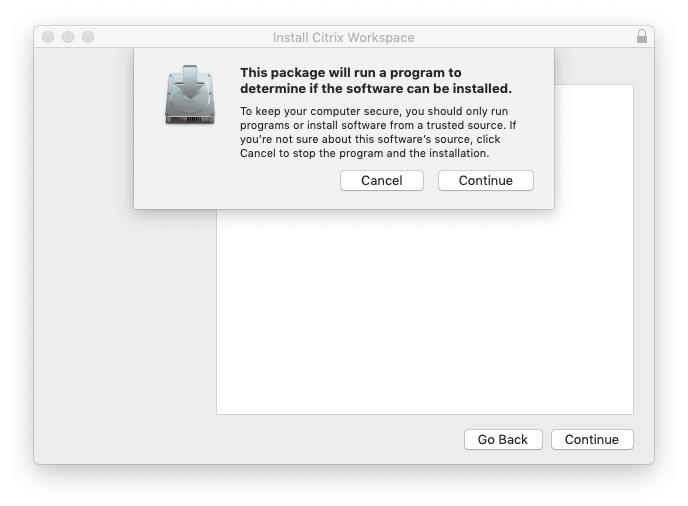 6.  Click Continue: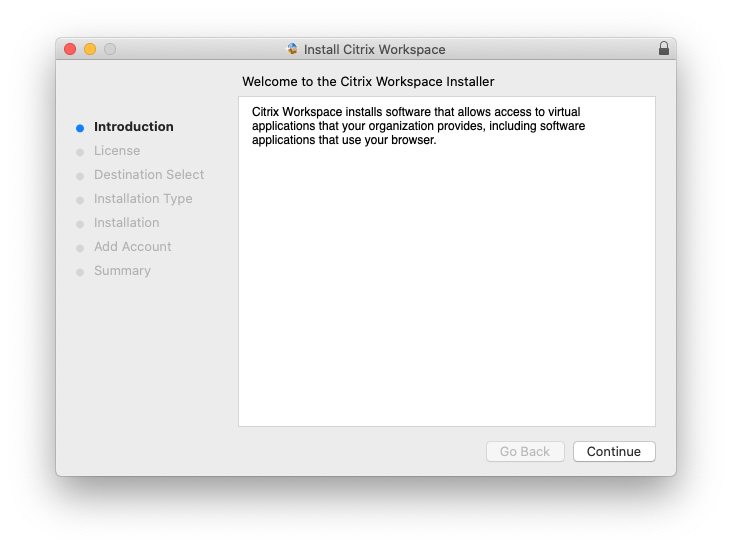 7. Click Continue: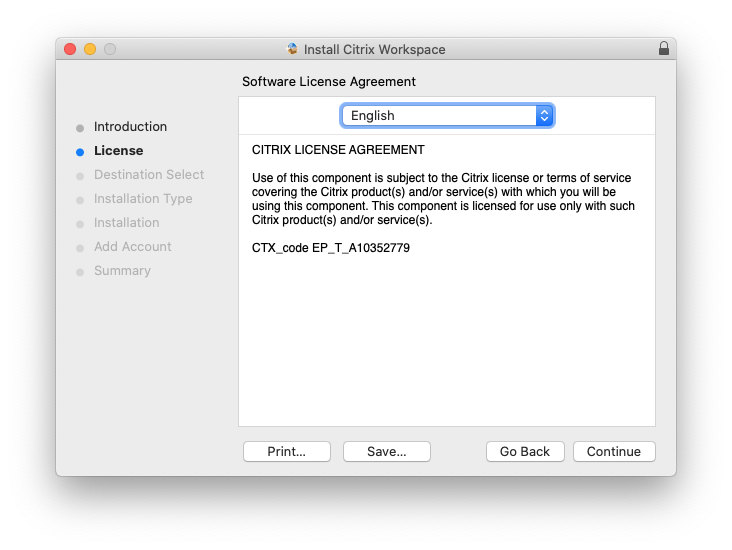 8. Click Agree to accept the licence agreement and then click Continue: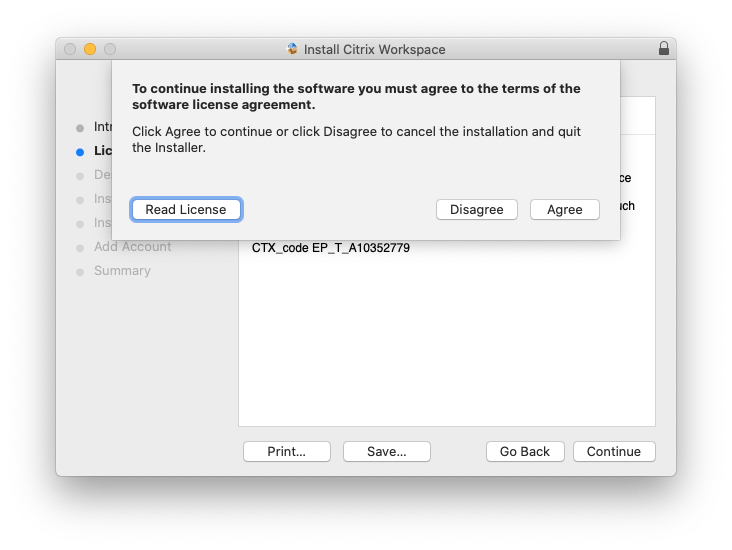 9. Click Install to install the app in the default location on your hard disk: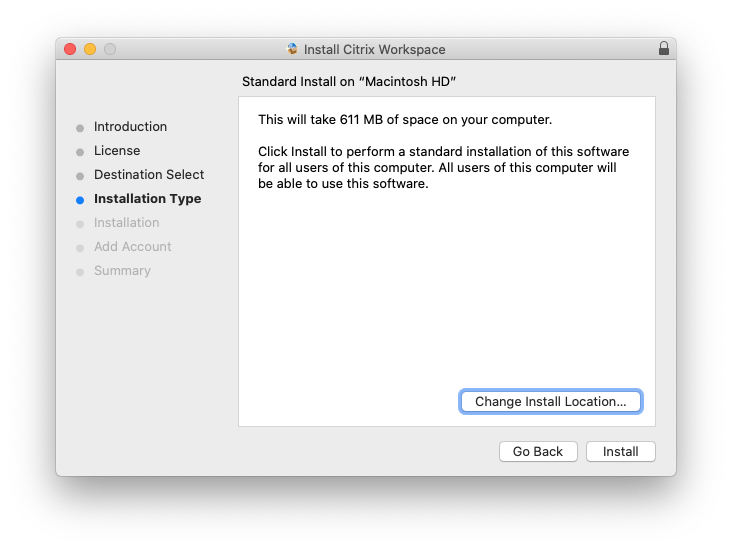 10. Enter your User Name and Password and click Install Software: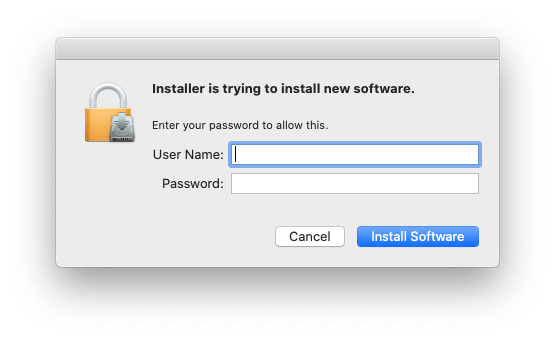 11. Tick the Add Account checkbox and click Continue: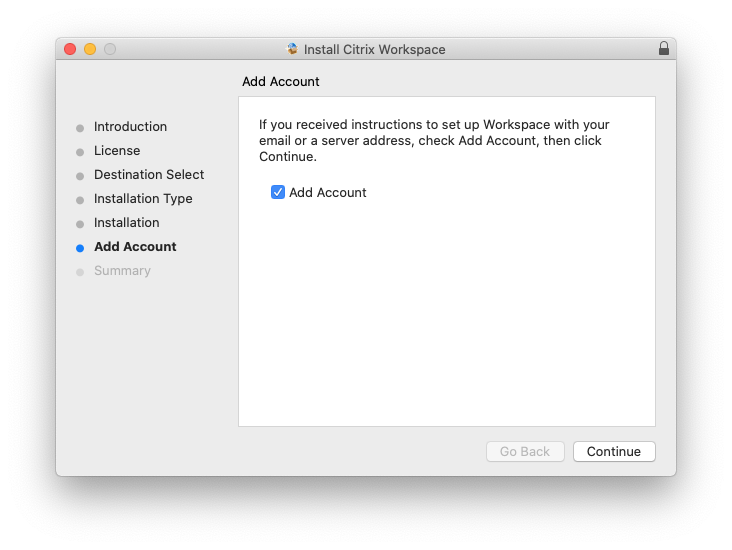 12. Type: https://uniofcam.cloud.com and click Add: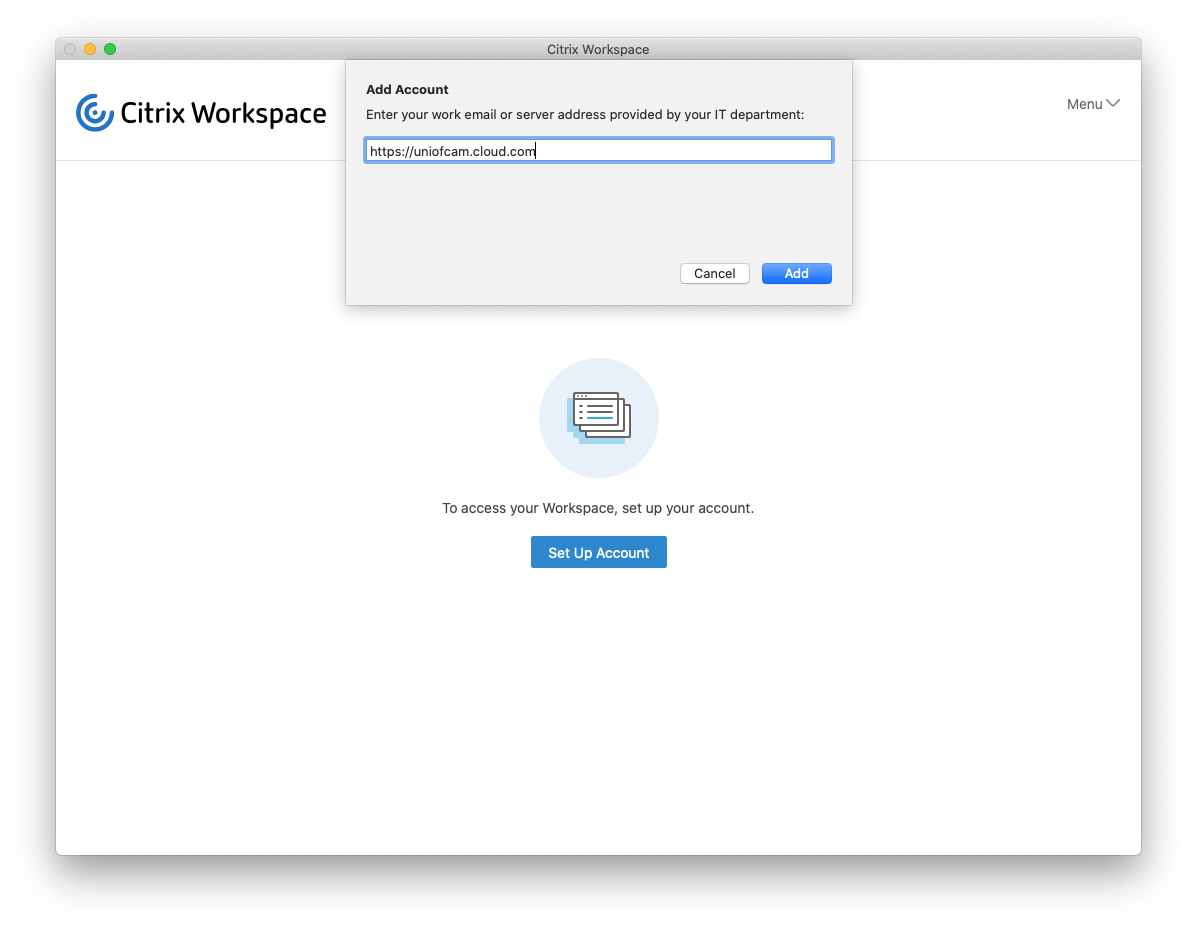 13. Log in with your CRSid and Raven password: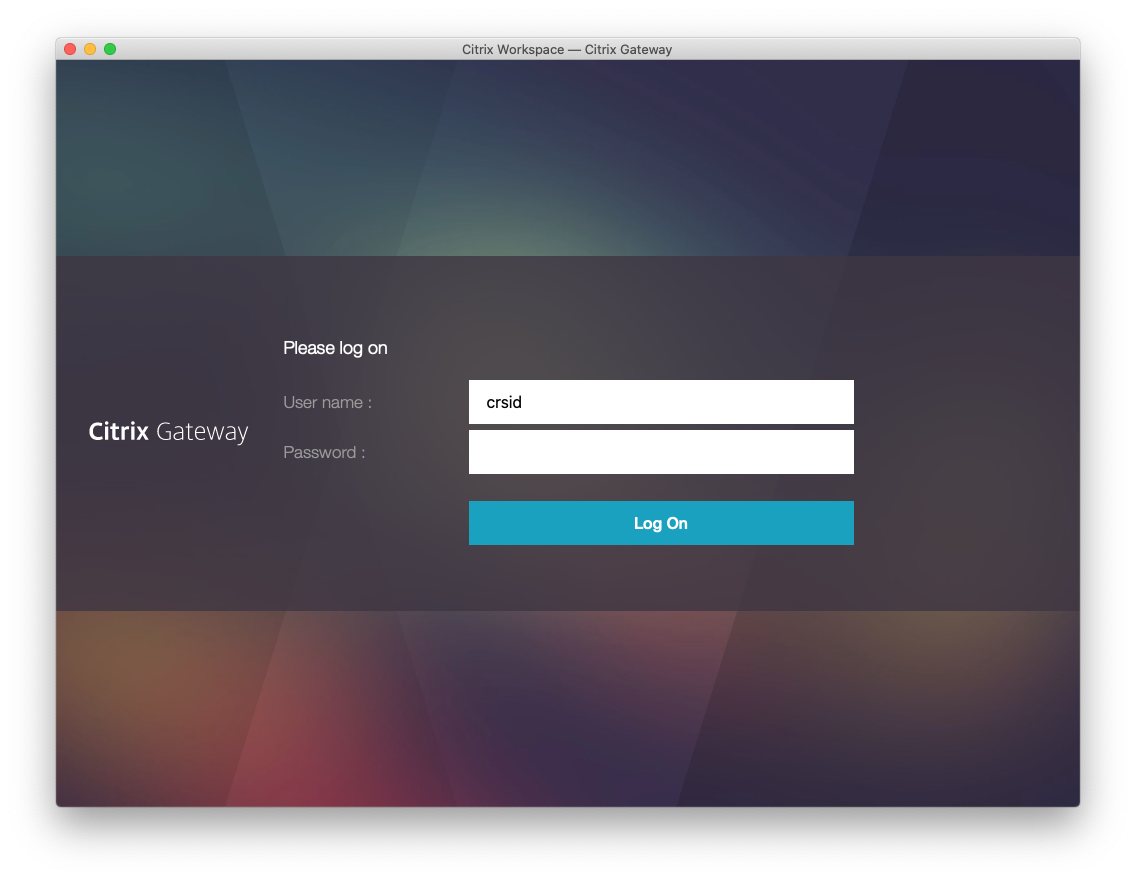 14. You will now see the Citrix Workspace interface that you'll use to find your UMD Desktop and available applications.
Under the Desktops menu in the left sidebar and you'll see your University Managed Device (UMD) Desktop.
[Optional] Add this to your Favourties list by clicking on the star icon, which will turn yellow.
Click the University Managed Desktop icon to start up your UMD Windows 10 desktop virtual environment: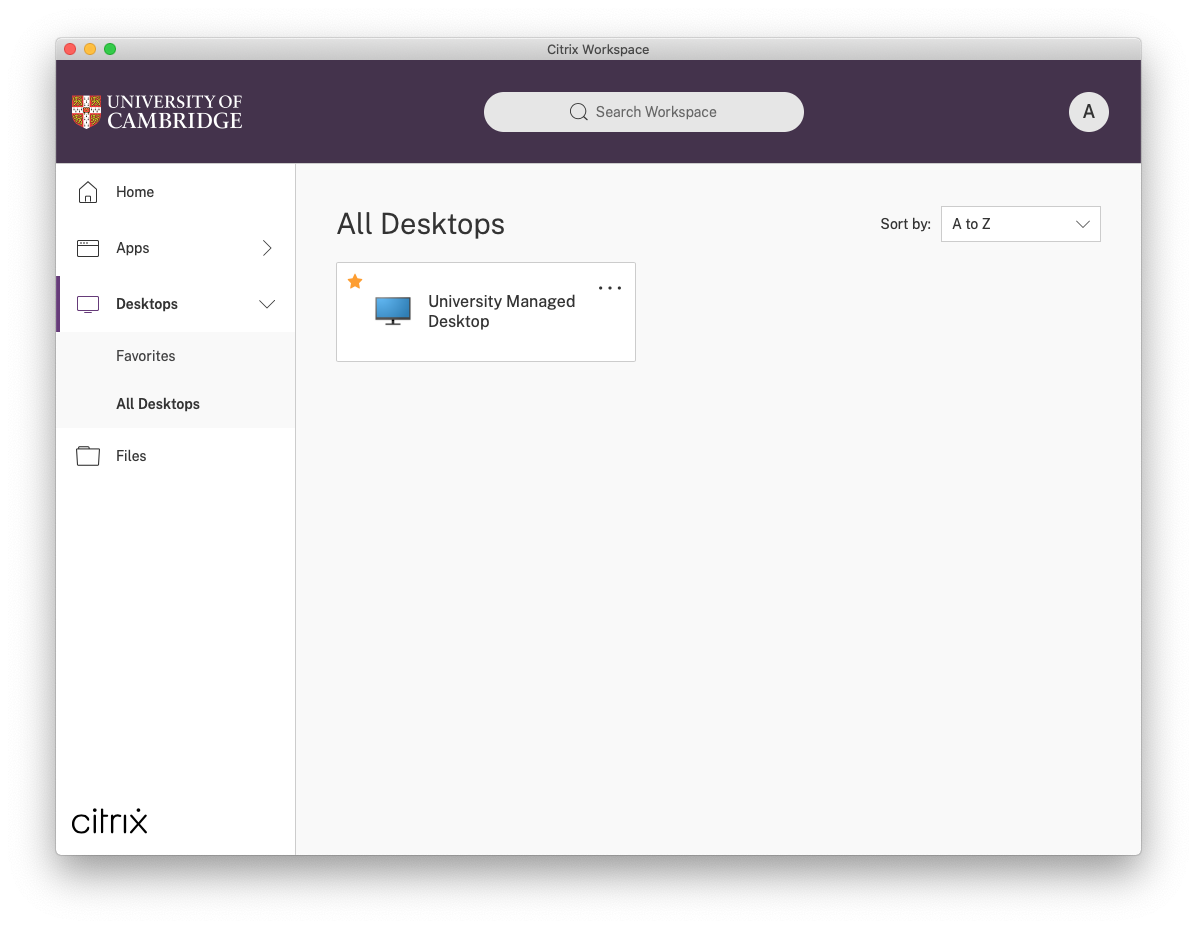 15. Start using your Windows 10 desktop: