Frequently asked questions about Office 365 ProPlus for personally managed devices.
Why can't I log in to my Microsoft account to start the Office 365 ProPlus install?
There could be several reasons. Before contacting your local IT support staff, please ensure that you:
are qualified

to install the software under the University's EES Agreement

;

have run through the UIS Password change procedure as described in Step 1 of the installation instructions.
In order to be able to download the software you must activate your entry in the new Active Directory by changing your password (even if you 'change' it to stay the same as it was);

have allowed up to 3 hours for the University-wide Active Directory to be synchronised with the Microsoft Cloud.
You may see an 'account locked' error message on the Microsoft portal during this time. Wait for the 3 hours to elapse and try again;

have checked that your UIS Password is correct, and working, by using the test page at:
http://webtools.csx.cam.ac.uk/cs/raven/test/

If you can answer 'yes' to all the above, but still can't log in, please contact your local IT support staff or the UIS Service Desk.

What happens when I leave the University?
During your time at the University, you will need to connect to the Office portal at least once every 30 days to keep the full functionality working. The licence for your copy of Office 365 ProPlus will be cancelled along with your UIS user account when you leave the University, and your details will be deleted from the University's Active Directory ('Blue'), which gets synchronised with Microsoft's 'Azure' Active Directory server every 3 hours.
The first time you try to connect to log in to the Microsoft Office portal after your details have been removed from the 'Blue' Active Directory – and in turn, synched to the 'Azure' Active Directory – your Office 365 ProPlus functionality will be reduced.
The software may remain on your device, and will continue to give you read-only access to Office documents, but you can't use it to work on your files anymore and will need to arrange your own Microsoft licence for future use. Office documents stored on your local machine will remain unaffected, and can still be worked on using any licensed copy of the Office software.

What should I do if I get a warning that Office 365 documents are read-only?
If an Office 365 application displays a warning that there is an issue with Office 365 licensing and that Office 365 documents are only available as read only, then it may be that your Office 365 applications need relicensing.
To relicense the apps, follow the steps in the Microsoft article at https://support.office.com/en-us/article/how-to-remove-office-license-files-on-a-mac-b032c0f6-a431-4dad-83a9-6b727c03b193

Can I get Office 365 ProPlus for Linux?
No, unfortunately not. Office 365 is only available for Windows (7, 8.1 and 10), Mac OSX (10.10 and later), iOS and Android. Linux users may, however, use the platform independent browser-based solution, Office Online.

How do I manage my Office 365 ProPlus installs (licences)?
The agreement lets you install Office 365 ProPlus on up to 5 desktop/laptop computers, 5 tablets and 5 smartphones – 15 personal devices in total – so it is unlikely that you will run out of licences. However, if you want/need to transfer one of your licences from one device to another, you can manage your 'installs' (i.e. licences) by logging in to the Microsoft Office 365 Online portal.
When you log in to the portal you are presented with a section at the top as follows:
Manage installs
Want to deactivate Office on one computer and install it on another? Go to My account > Install status.
Click the link, and you will see your devices and installations listed, with an option to Deactivate each individually, e.g.: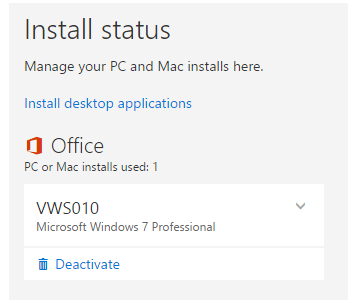 Alternatively, if you are already logged in to the portal, you can deactivate your unnecessary licences via your My account page, under the Install status tab: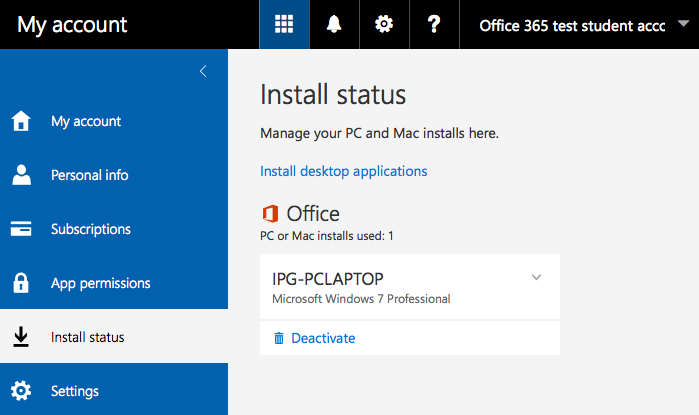 Can I use bibliographic software with Office 365?
If you wish to use bibliographic software (such as EndNote, Mendeley or Zotero) you need to be aware that these will only work as helper programs for Word when Word is running on the local machine. They will not work with Word Online running either in a browser window, or as an app.
You can share a document containing EndNote citations using Word Online and your collaborators will be able to view the citations and edit the accompanying text, but the citations themselves can only be modified in the desktop version of Word.
Office 365 ProPlus for Mac and EndNote
Office 365 ProPlus for Mac is not currently compatible with EndNote. If you are already using EndNote with Word 2011 we recommend that you do not uninstall Word 2011 until the EndNote upgrade is available.