From 4 July 2018, the pre-registration form includes checkboxes for Hermes and Exchange Online. It is very important that you tick the right box, and understand how the system determines which email accounts can be activated under different circumstances.
Under Accounts, the form now includes an additional checkbox for Exchange Online (ExOL) email.
 
The Hermes, Exchange Online (ExOL) and Desktop Services (DS-MCS) fields are now unchecked by default so you must remember to check all that you want to request:


 
Do your new starters already have a live Hermes account?
      You can't use this form to migrate people with a live Hermes account to Exchange Online automatically.
If someone has studied or worked at the University recently, they may already have a live Hermes account. If they have, and you use this form to request an Exchange Online account for them, nothing will happen – they will keep their Hermes account, but can self-migrate their account to Exchange Online.
Before you start this pre-registration form, you will need to find out if your new starter has a live Hermes account, by
asking them, or
using Jackdaw to look up their record
(NOTE: all Computer Officers have read-only access to Jackdaw.)
In Jackdaw, the Hermes checkbox will be green and checked, and they must self-migrate to Exchange Online if required: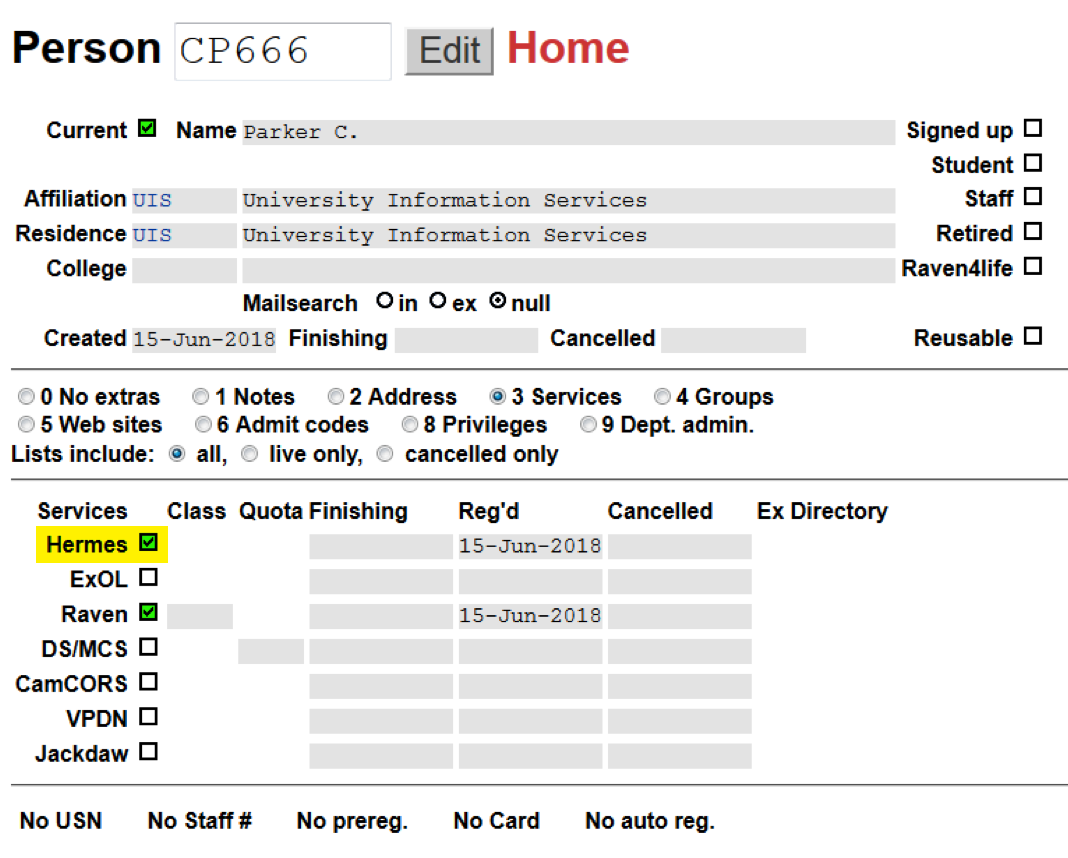 Which email account will your new starter get?
The matrix below explains which email accounts new starters will be given depending on their circumstances and the options you tick during pre-registration:
What they already have:
Outcome
Hermes
Exchange
Online ('ExOL')
...and you request a Hermes account:
Will keep Hermes
(they can self-migrate to ExOL)
Will keep both
Will keep Exchange Online
Get given Hermes
...and you request an Exchange Online account:
Will keep Hermes
(they can self-migrate to ExOL)
Will keep both
Will keep Exchange Online
Get given Exchange Online
...and you request both Hermes and ExOL accounts:
Will keep Hermes
(they can self-migrate to ExOL)
Will keep both
Will keep Exchange Online
Get given Exchange Online