The lecture capture team, which includes colleagues from Estate Management, UIS, and the Education Quality and Policy Office, has completed the first phase of rolling out recording equipment across the University to support online teaching and learning.
The University and the Colleges jointly agreed in June that teaching would be delivered by a blend of in‑person and online teaching during the 2020/21 academic year. At this point, the lecture capture system had been running as a pilot in 21 departmental and 20 centrally managed teaching spaces for 2 years, but most of them were large or heavily utilised spaces that had been chosen to maximise its impact. It was also based on a fixed schedule of lectures and was heavily automated. The University's response to the Covid-19 pandemic required an entirely different approach and service model.
The lecture capture team was tasked with gathering schools' and departments' applications for recording facilities in late July. By August, they'd received requests to install lecture capture equipment in more than 100 rooms. They worked with schools and departments to prioritise the requests, as it wouldn't be possible to install all of them with the resources and time available over the summer.
They quickly determined that the requirements for Covid-era teaching and learning were very different from the scheduled lecture capture (SLC) model used for the pilot. Lectures could be organised flexibly and sometimes at short notice. Lecturers also needed 'studios' – rooms they could use to pre-record educational videos whenever they were available. The equipment needs were also different. When capturing scheduled, large-group teaching sessions, institutions rarely wanted cameras to record the lecturers themselves. Faced with the need to pre-record videos for online teaching, almost all departments wanted cameras to capture the speakers. The team devised a new manual lecture capture (MLC) service model to accommodate these requirements, sourced equipment accordingly and set about rolling out the service in a tight timeframe.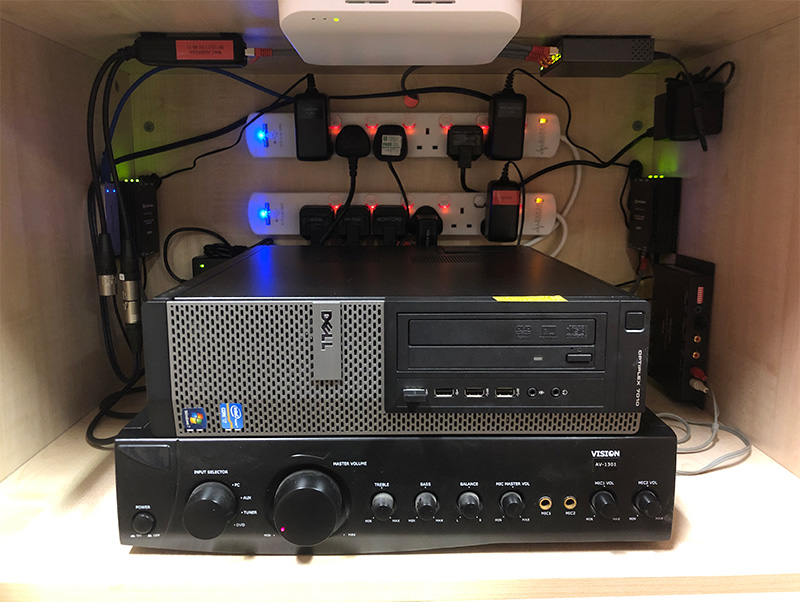 When the new academic year began, the team had installed lecture capture equipment in 38 rooms spread across 13 departments and supplied equipment to a further 16 rooms, all in only 29 working days. This was the result of close coordination and collaboration with departments, some dextrous supply chain management when organising the purchase and timely delivery of equipment, as well as the tireless efforts of the AV team on installations. Some of the installations were complex, requiring new network connectivity.
We now have 82 lecture capture facilities across the estate, and plan to expand coverage to new rooms in second and third phases during this academic year to meet the increasing demand.
Jessica Comber-Chaney (Teaching and Learning Systems Manager) and Abraham Martin (Head of Development Operations) would like to thank the whole team for their hard work in difficult circumstances: the AV team, Joe Delaney and George Agnew in Estate Management; learning technologists Frank Wall and Iftakhar Ahmed and project managers Audrey Leyland and Nick Harwood in UIS; Sandra Jackson and Anna Nerukh in UIS's Teaching and Learning Systems helpdesk; and Melissa Rielly in the Education Quality and Policy Office.