If you prefer to use an app to access your UMD Windows Virtual Environment, you can install and use the Citrix Workspace app. This will give you additional benefits such as automatic local default printer mapping.
 
Minimum system requirements and compatibility
See full details: Prerequisites to install Citrix Workspace on Linux
A Raven user account

A working network or Internet connection to connect to servers


 
Installing Citrix Workspace (Part 1):
1. Open your web browser and go to https://www.citrix.com/downloads/workspace-app/linux/workspace-app-for-linux-latest.html
2. Navigate down the webpage to Available Downloads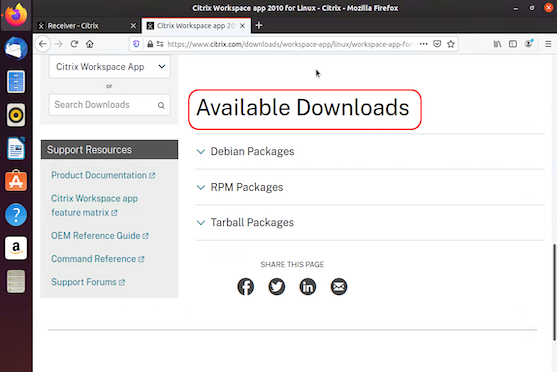 3.  Select the version of Linux you are running. 
Note: These instructions will use "Debian Packages" as Ubuntu is the main client. 
4. Select Web Packages (Web Workspace app only) from the drop-down menu and click Download File:  
 
5. An option to install or download the Citrix Workspace application is presented.  Select Save File: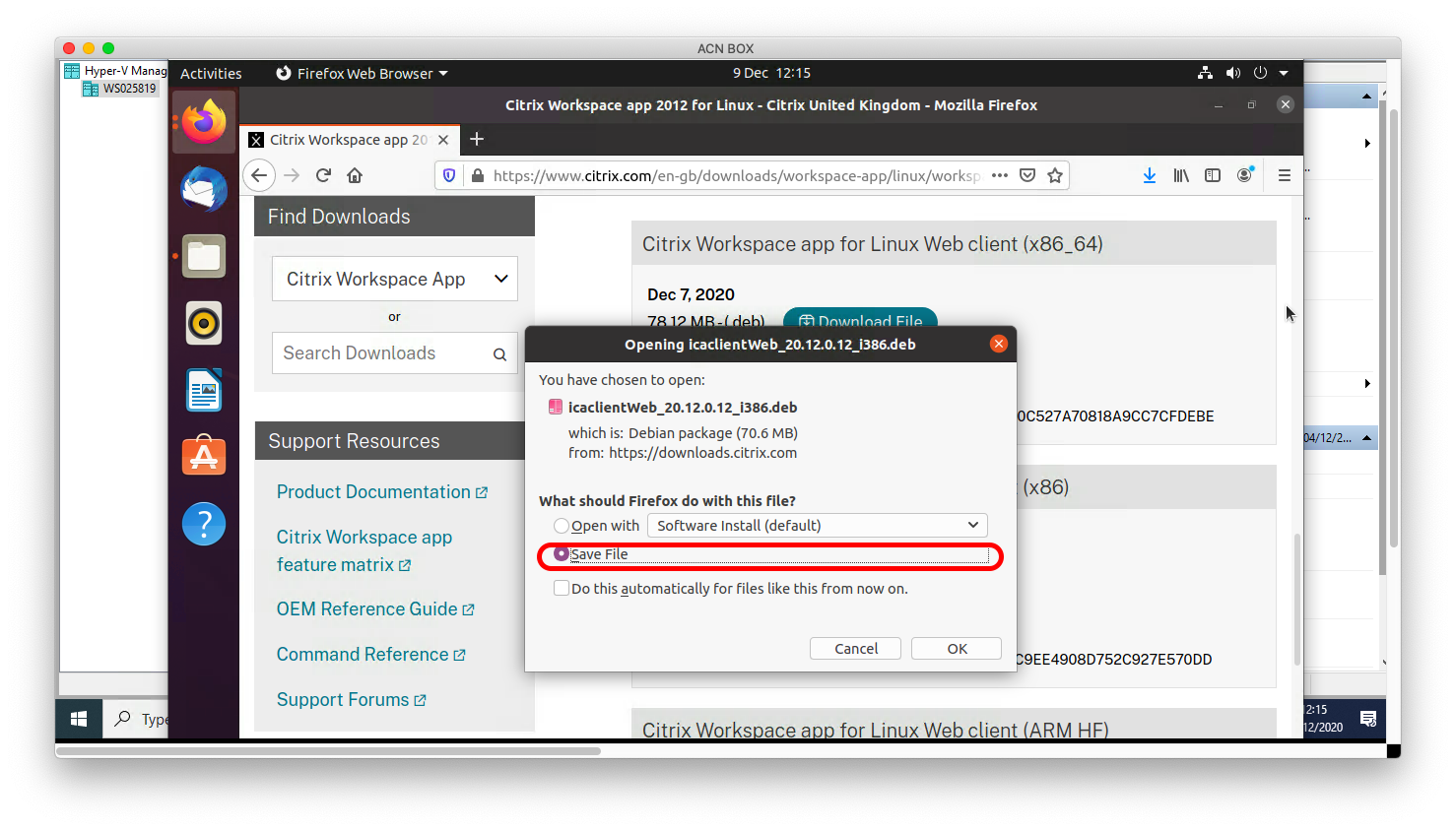 6. Navigate to the download, for example (click on the image to enlarge):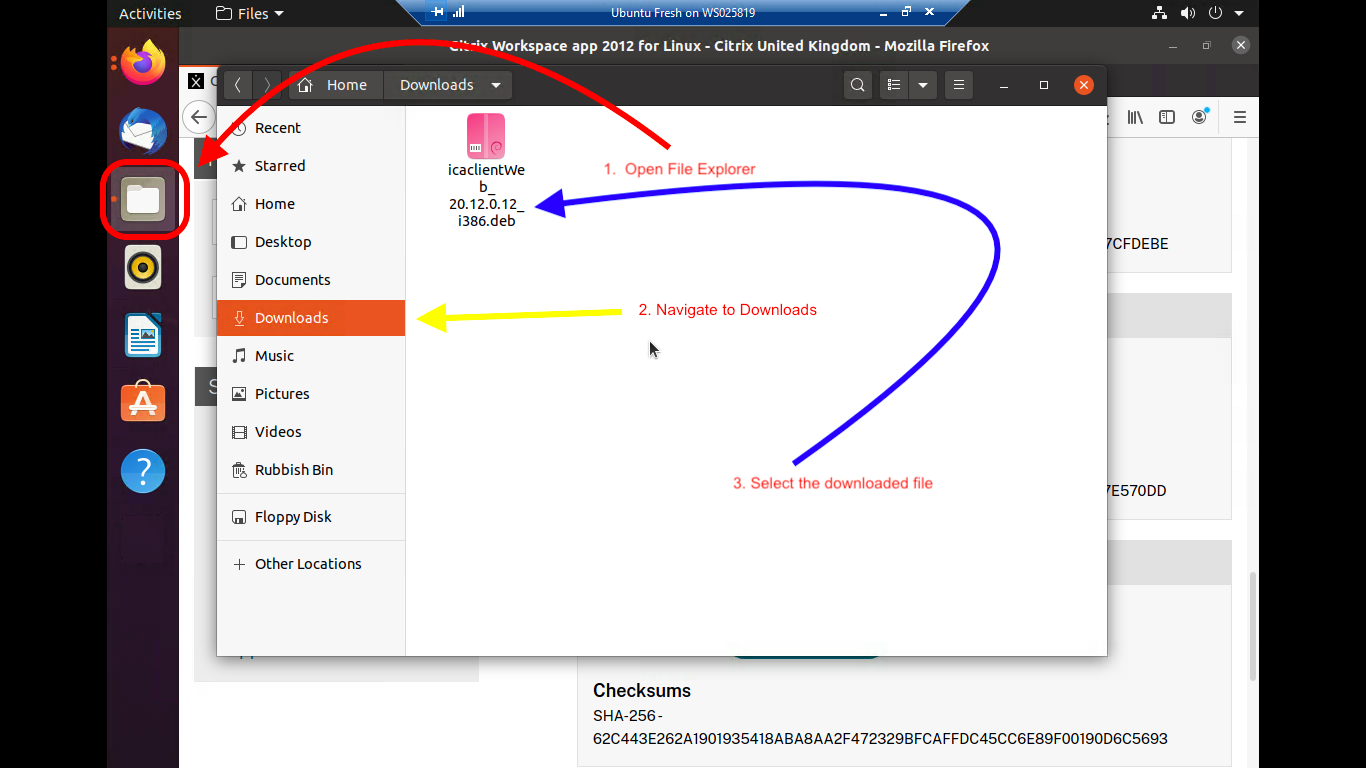 7. Double-click to select the .ICA file, then select Install.
Enter you Linux login password to confirm the install.
8. The ICA Client will now start to install: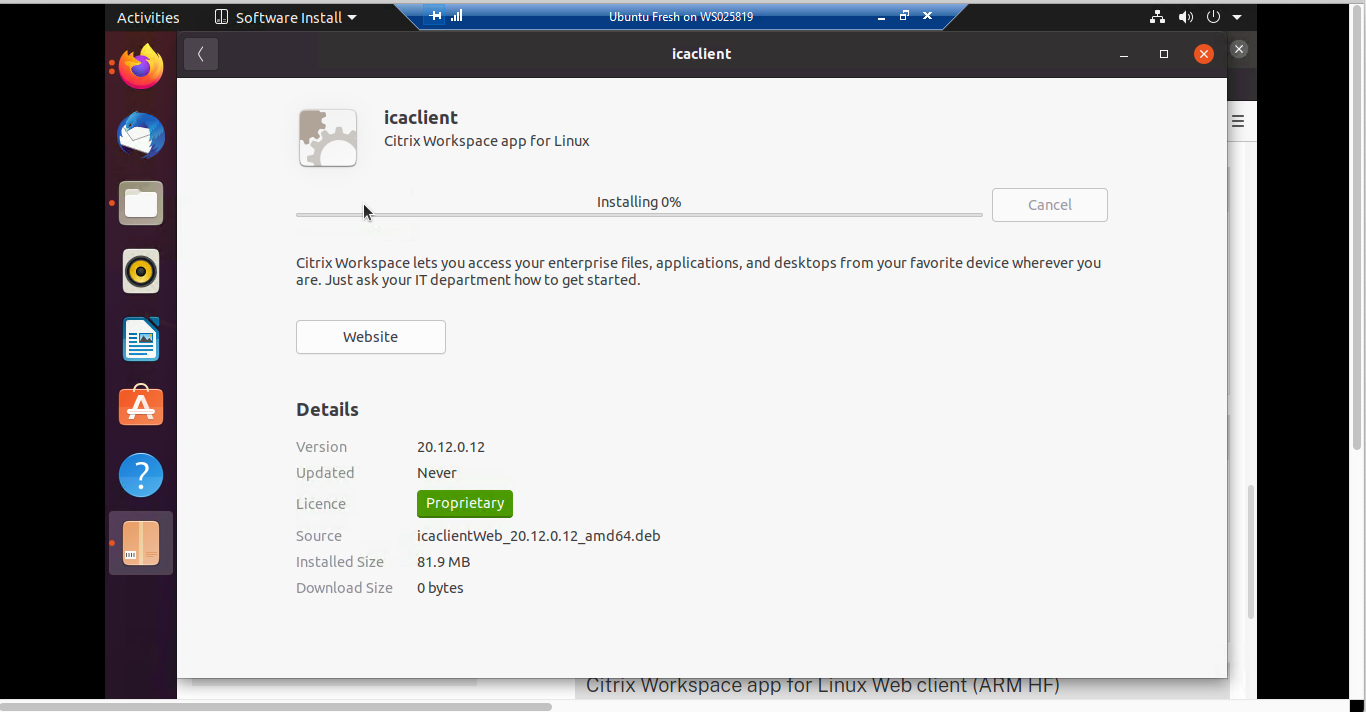 Before the application can be run successfully, users are required to first create a security certificate. The creation of a certificate requires two simple commands run through the Terminal as follows:
Certificate Creation
 1. Navigate to the Applications icon at the bottom of the side toolbar:
2.  From the list of application navigate to Utilities:
3. Double-click to open the Terminal application.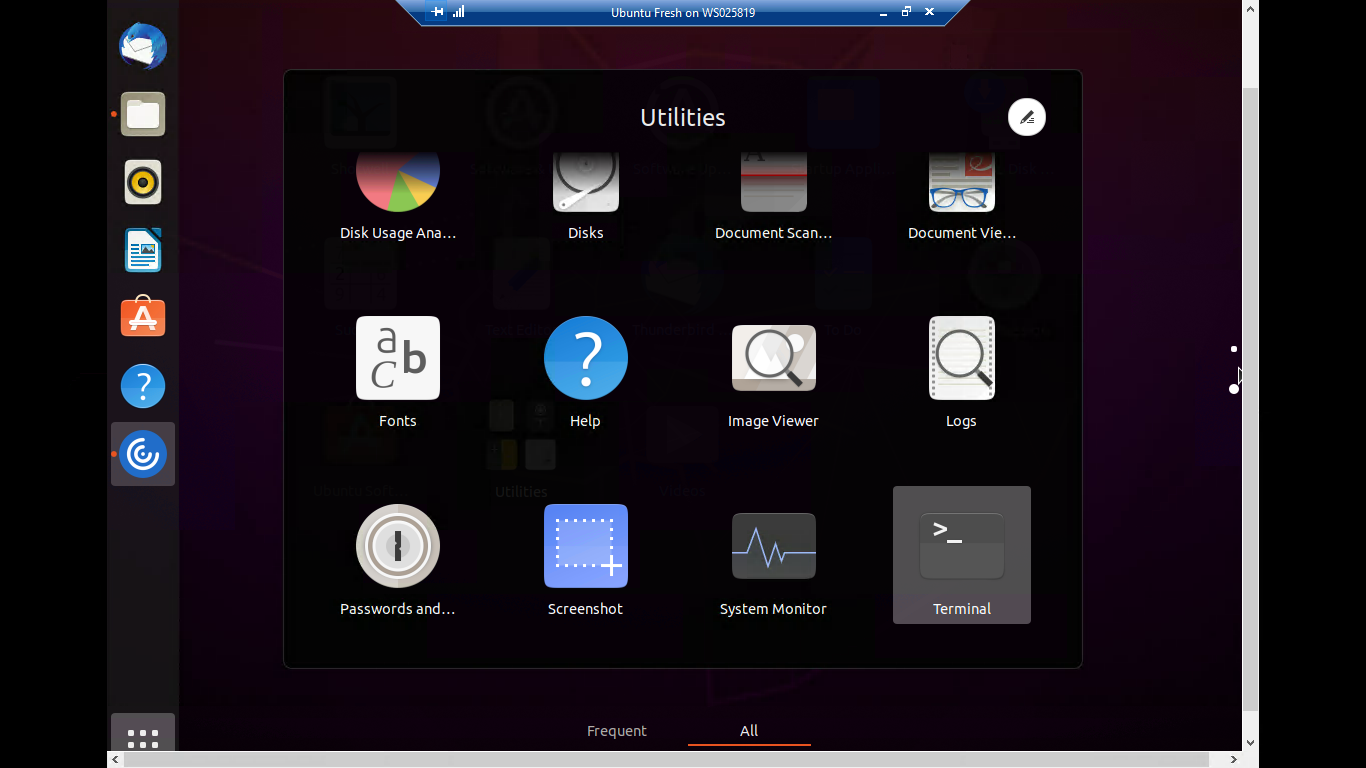 4. On the command line first enter:
sudo ln -s /usr/share/ca-certificates/mozilla/* /opt/Citrix/ICAClient/keystore/cacerts/
You will be prompted for your Linux logon credentials to confirm the command: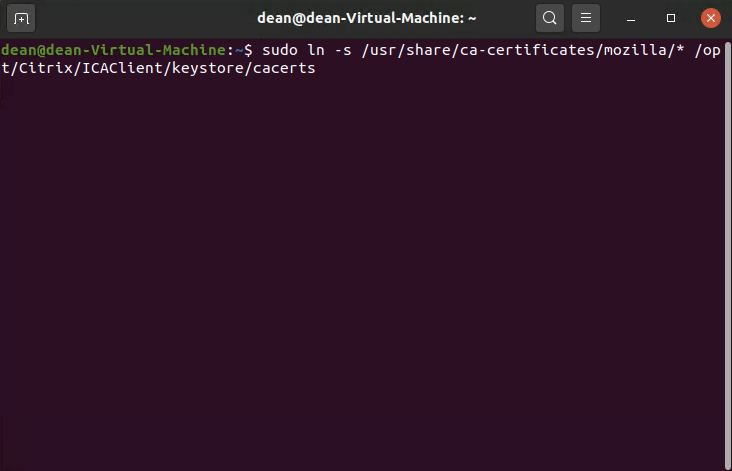 5. Once complete on the command line enter:
sudo c_rehash /opt/Citrix/ICAClient/keystore/cacerts/
 
The certificate installation is now complete and you may now return to completing the Citrix Workspace App install. 
 
Installing Citrix Workspace (Part 2):
1. Still under Applications, go back to the main screen and select Citrix Workspace App.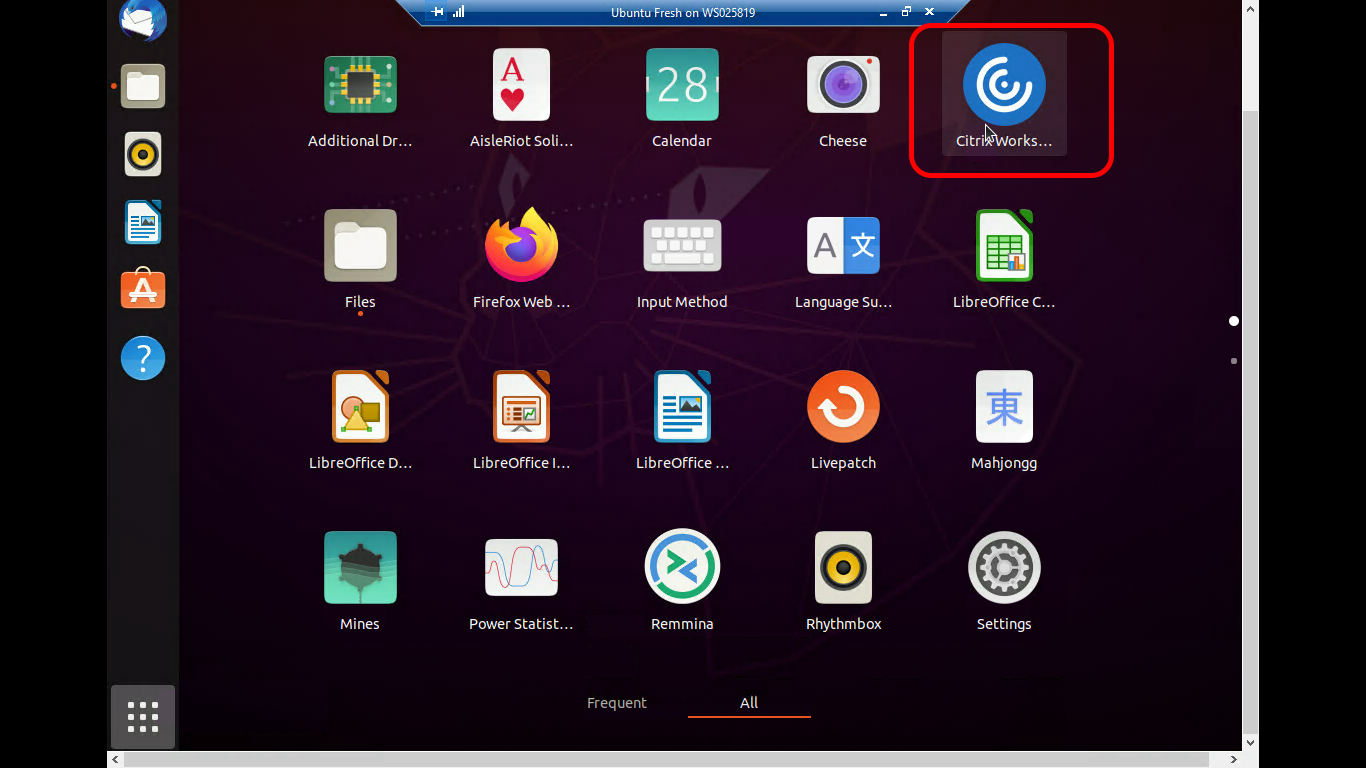 2. Under the Citrix Workspace Add Account pop-up enter:
3. Log in to the Citrix Gateway using your CRsid and Raven password (e.g. CRsid: xx205 password: test)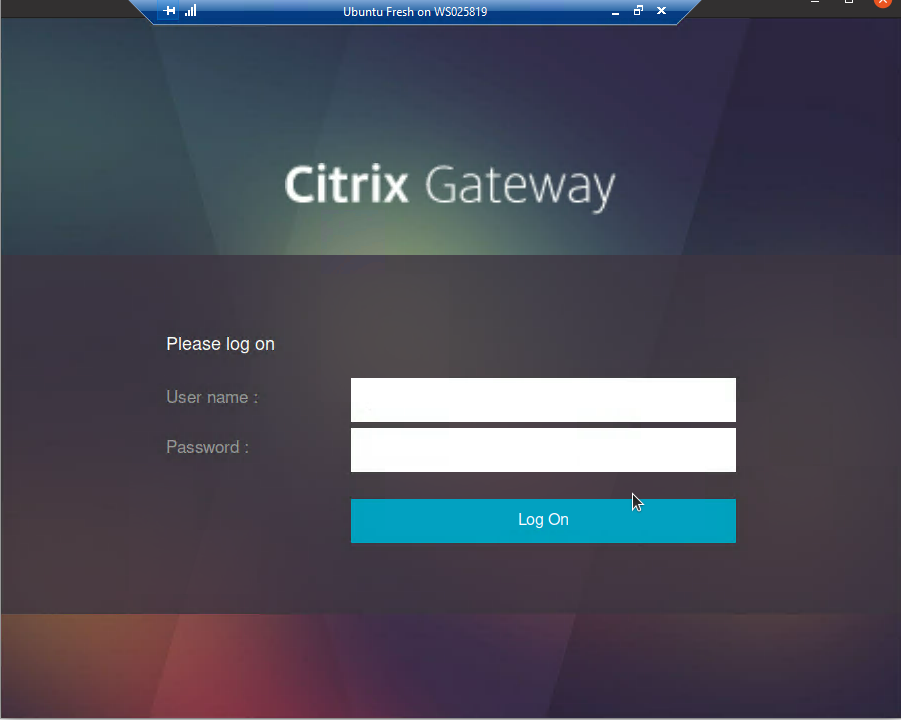 4. When Citrix Workspace opens, select the University Managed Desktop, found under the available desktops to access your personal University Managed Desktop within the Citrix VDI: